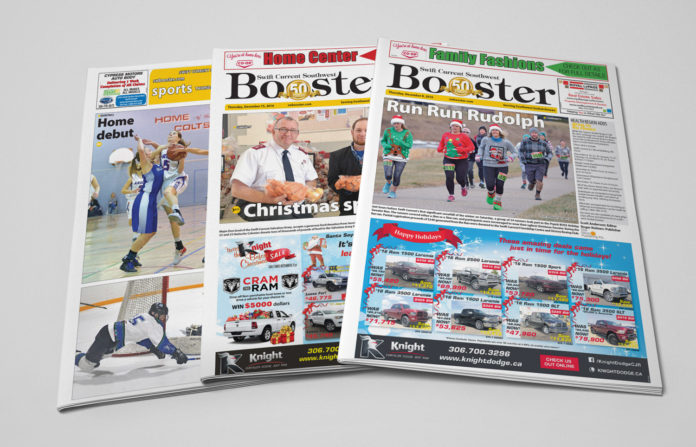 An eclectic line-up of concerts in Swift Current during the coming weeks will appeal to a wide range of musical tastes.
Among the shows coming to Swift Current during January and February are:
JANUARY 13 – MALANKA
A few tickets are still available for tonight's Malanka – Ukrainian New Year's Celebration at Living Sky Casino.
The evening boasts an authentic Ukrainian supper at 6:30 p.m., followed by an 8 p.m. show featuring the Yevshan Ukrainian Folk Ballet Ensemble and music by prairie polka masters The Western Senators.
Tickets are available by visiting https://tickets.siga.sk.ca/
JANUARY 14 – RAY CHARLES TRIBUTE ORCHESTRA
The first 2017 concert in the Stars for Saskatchewan concert series features The Ray Charles Tribute Orchestra.
The nine-piece ensemble will be on the Sky Centre stage this Saturday at 7:30 p.m.
Fans can expect to hear Charles' greatest hits including "Georgia On My Mind", "Mary Anne", "Hit the Road Jack" and "Let the Good Times Roll".
Tickets are $45 each and are available at www.ticketpro.ca (Swift Current Arts Council link) or by calling 1-888-655-9090.
The group was formed by Musical Director John Gray (bassist and Calgary Jazz scene leader) who toured with the Ray Charles Orchestra. Their ensemble features Grammy Award winner Donald Ray Johnson on vocals, and the group boasts a solid rhythm section, a killer horn section, and two backup singers known as the "Donald Raylettes".
JANUARY 20 – CONNIE KALDOR
Saskatchewan musical treasure Connie Kaldor will be featured in concert at the Lyric Theatre on January 20.
The Juno winning Folk Singer boasts 14 albums to her credit, and she became a member of the Order of Canada in 2006. Kaldor has also released a trio of award winning children's books/CD's.
Her original songs and riveting performances evoke the powerful and unique presence of the Canadian prairies. Witty and serious, down-home and metropolitan, her versatility and talent ensure that she is an artist whose fan base expands with every show.
Advance $30 tickets are available at Pharmasave. Doors open at 7:30 p.m. and the concert starts at 8:30 p.m.
JANUARY 28 – DAVID GOGO TRIO
David Gogo has earned numerous Canadian blues awards over a storied 30-year plus music career. His music has been nominated for five JUNO Awards, and his songs have been featured in film and television.
Gogo is currently touring with Bill Hicks on drums and Jay Stevens, in support of Gogo's 14th album release, Vicksburg Call. His latest offering was recorded in his hometown of Nanaimo, B.C., and it features a grittier sound and is a standout rockin' blues album.
Advance tickets are $30 and can be purchased at Pharmasave. Doors open at 7:30 p.m. and the music starts at 8:30 p.m.
FEBRUARY 4 – KIM MITCHELL
Canadian rock icon Kim Mitchell will be sharing some of his legendary songs during a February 4 concert at the Living Sky Casino.
Mitchell was the leader of Max Webster in the 70s, where the quartet churned out hits including Let Go the Line, A Million Vacations while releasing six albums.
He embarked on a wildly successful solo career during which he churned out CanCon mega hits including Patio Lanterns and Go For Soda, along with Rock N Roll Duty, Rockland Wonderland, and Easy To Tame.
His 1984 release Akimbo Alogo went double platinum in Canada, the best selling of his six solo releases.
Mitchell boasts three Juno Award wins, being named Male Vocalist of the Year in 1987 and 1990, and back in 1983 he won the Most Promising Male Vocalist of the Year.
Tickets are available by visiting https://tickets.siga.sk.ca/
FEBRUARY 10 – THIS IS TOM JONES
Tom Jones tribute show featuring Dave LaFame will be on the Living Sky Casino Sky Centre stage on February 10.
LaFame is among the top Tom Jones impersonators, and in 2012 he won the Las Vegas Celebrity Impersonators Award for top male entertainer.
Tickets are available by visiting https://tickets.siga.sk.ca/
FEBRUARY 10 – DOJO WORKHORSE
On Friday, February 10th, Blenders is featuring the talented Dojo Workhorse. This band of eight blends together in a collection of rock and blues to create something compelling and relatable.
Lead singer Dan Vacon may be best known for penning the anthemic rock songs recorded by The Dudes, but Vacon's softer side is laid bare in Dojo Workhorse. Vacon moves from barroom boozy to rock 'n' bluesy with Dojo Workhorse, taking the opportunity to bring some pleading honesty and gentle humour to his heartfelt odes to love, loss and the eternal hope of getting it right this time.
Advance tickets are $35 and can be purchased at Pharmasave. Doors open at 7:30 p.m. and the concert starts at 8:30 p.m.