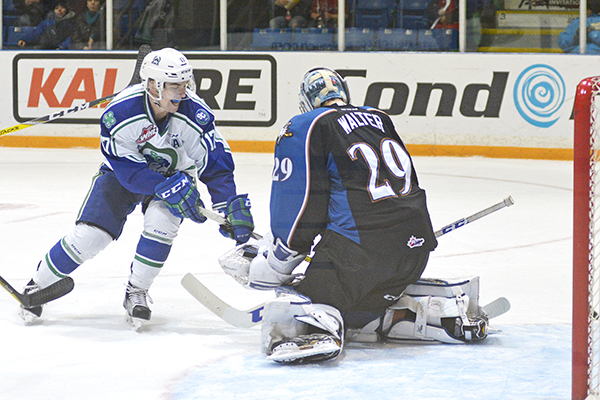 A four goal explosion during a 2:16 span late in the second period sparked the Swift Current Broncos to a dominant 8-3 win over the visiting Kootenay Ice.
Swift Current was slow out of the gate and actually trailed by a 2-1 count before taking over the contest.
Tyler Steenbergen was the Broncos spark plug in the win, scoring twice and picking up four assists during a career best six-point performance. Steenbergen is now second in league scoring with 32 goals, and he leads the Broncos with 55 points.
Glenn Gawdin and Aleksi Heponiemi both enjoyed two goal, two assist outings, as the trio counted a combined 14 points.
Single goals were added by Ryan Graham and Conner Chaulk.
Kootenay counted goals from Jake Elmer, Vince Loschiavo and Cale Fleury.
Swift Current held a 43-27 edge in shots, and the Broncos outshot the Ice by a 23-6 margin in the middle period.
Bronco net minder Taz Burman improved to 11-9-3-1 by stopping 24 of 27 shots.
Kootenay goaltender Jakob Walter is now 2-8-2-0 on the year after yielding eight goals on 43 shots.
Swift Current ended a four game home stand with a three win, one loss record and sit with a 24-12-3-4 record after Wednesday's win. Kootenay drops to 8-31-2-2.
The Broncos now have a tough three game test this weekend, travelling to face the Medicine Hat Tigers (29-13-1-0) before back-to-back home games versus Tri-City (26-17-3-0) on Saturday night and Red Deer (19-17-4-2) on Sunday afternoon.
The Broncos played their January 11 game before a season low 1,647 fans during a blustery Wednesday night.