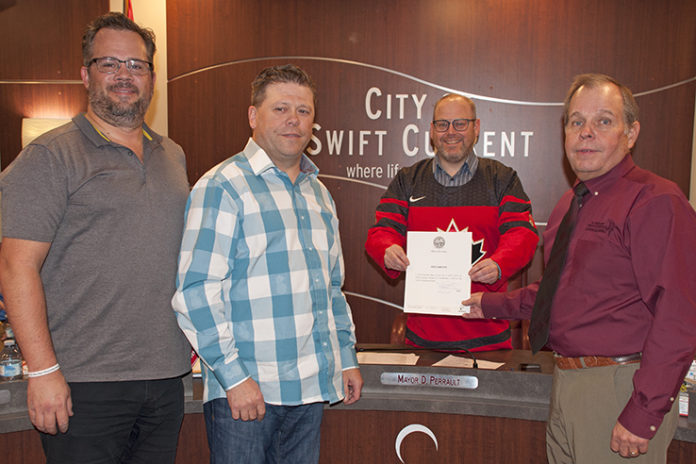 A heightened focus on the Close to the Heart Campaign is underway as the Dr. Noble Irwin Regional Healthcare Foundation takes aim at completing a $350,000 fundraising initiative to buy a new digital mammography unit for the Cypress Regional Hospital.
Foundation members attended the October 21 Swift Current City Council meeting in order to help proclaim We Care For Healthcare Week on October 27 to November 2.
"As we work to promote our 11th annual Phamasave Radiothon for Healthcare, we think that having the week of October 28 as We Care For Healthcare Week will help remind the residents of Swift Current, and all the people serviced by the Regional Hospital, that if we want the best equipment and by extension the best opportunity to identify breast cancer at an early stage, we need to get our message to the community and ask for help," Thompson said on Monday.
The Close to the Heart Campaign was launched back in June and the Foundation is hoping an additional awareness push will aid them purchase this important piece of diagnostic equipment.
Thompson noted that the initial Radiothon in 2009 provided a portion of the funds needed to buy the first digital mammography unit that was installed at the Cypress Regional Hospital.
"Since then, on average, more than 2,000 screening and diagnostic mammograms have been completed on an annual basis. And while the current mammography unit continues to serve our community exactly as intended, technology has changed. And since mammography has become the go-to method for early detection of breast cancer, when the Saskatchewan Health Authority and our local care providers asked us to help them replace it, it was a no brainer for us to agree, and our Close to the Heart Campaign was created to connect this life saving healthcare need to the community, and bring the new technology to our regional hospital."
Thompson shared the sobering statistic that one in eight women and one in 25 men will be diagnosed with breast cancer at some point in their lifetime.
"That means of the 56,000 people that we serve in Southwest Saskatchewan, as many as 4,500 of them could be diagnosed with this life altering condition at some point in his or her life. And while breast cancer is one of the major causes of cancer related death, though early detection it can be successfully treated."
He explained the 11th annual Phamasave Radiothon for Healthcare on October 31 and November 1 will share information from care providers and cancer survivors, along with explaining why the new unit will help detect breast cancer better than the current equipment at the hospital.
"And most importantly, how with community support we can and will give those 4,500 people I mentioned earlier the very best chance to beat breast cancer," Thompson said.