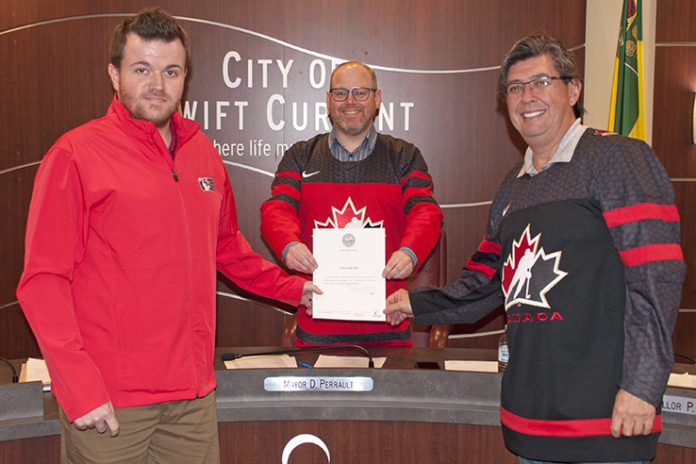 Sports fans will have an opportunity to watch an elite group of international prospects when the 2019 World Under-17 Hockey Challenge comes to Swift Current on November 2 to 9.
Swift Current and Medicine Hat are co-hosts of the 22 game event which features a trio of Canadian teams facing off against teams from Russia, Finland, Sweden, the United States and Czech Republic.
Tournament co-chair Liam Choo-Foo made a presentation to city council on Monday night to share details of the upcoming major event.
"We're the fourth major event to come into the City. And I know its been a priority of council to bring world class events to the community and you've done an outstanding job of doing that," Choo-Foo noted in his address.
Choo-Foo said that Swift Current's volunteering spirit was again put to the test, and the community passed this latest challenge with flying colours.
"People, when I first took this on, were saying 'you'll never find volunteers. They're all pooped out'. Well actually we've done very well. We've started a waiting list for volunteers," he said. "They've really jumped up to the table and its been quite outstanding that way."
The Southwest will be hosting two of the four pre-tournament exhibition games which are set for Halloween. Shaunavon will be playing host to an October 31 evening game between Canada Black and Finland, while Swift Current will feature an exhibition contest pitting Canada White and Russia.
Full event packages and individual game tickets are now on sale, however, Choo-Foo highlighted a pair of key games people will want to get tickets for quickly.
"Opening night. Canada versus Russia. Get your tickets. We want to sell the rink out for that one. Saturday night, November 2," he said.
"And then the other big one is the semi-final, and that will be on November 8th. And of course we don't know who will be involved with that."
Canada has three teams (Team Canada Red, Team Canada White, and Team Canada Black), so organizers are hopeful that one Canadian team will be in that semi-final in Swift Current.
With Team Canada Red playing all three of their round-robin games at the Innovation Credit Union iPlex, fans will be treated to seeing some of the top up and coming hockey talent in action.
Defenceman Nolan Allan from Davidson, one of just two Saskatchewan players participating in the tournament, was selected to Team Red. Allan, who is already one of the prospects generating early round NHL draft selection buzz for 2021, currently skates with the defending WHL champion Prince Albert Raiders. He was selected third overall in the 2018 Bantam Draft.
Other high WHL picks on the ice for Team Red in Swift Current are: Logan Stankoven, Kamloops (fifth overall); Kyle Masters, Red Deer (16th overall); Conner Roulette, Seattle (34th overall); and Olen Zellweger, Everett (42nd overall).
QMJHL 2018 Bantam Draft first overall pick Joshua Roy (Saint John), headlines top talent from the Quebec Junior League featured on Team Red, along with fellow first rounders Olivier Nadeau, Shawinigan (fifth overall); Evan Nause, Val-d'Or (sixth overall); Nathan Gaucher, Quebec (eighth overall); Zachary Bolduc, Rimouski (14th overall);
The quality of the talent which will be on the ice is evident by the fact that a total of 250 NHL and CHL scouts have accreditation to attend tournament games in Swift Current and Medicine Hat.
Tickets are available online at swiftcurrent.ca, hockeycanada.ca, scbroncos.com or in person at The Stable. In addition, World Under 17 gear arrives at The Stable on October 25.
To help get the city excited for the event, November 1 is being celebrated as Jersey Day in Swift Current.
The tournament kicks off on Saturday, Nov. 2 at 7 p.m. with Canada Red facing Russia at the Innovation Credit Union iPlex. Other games set for Swift Current are:
Sunday, November 3
Finland vs Sweden, 3 p.m., Innovation Credit Union iPlex.
Monday, November 4
Russia vs Finland, 1 p.m., Innovation Credit Union iPlex.
Sweden vs Canada Red, 7 p.m., Innovation Credit Union iPlex.
Tuesday, November 5
Russia vs Sweden, 3 p.m., Innovation Credit Union iPlex.
Finland vs Canada Red, 7 p.m., Innovation Credit Union iPlex.
Thursday, November 7
Quarter final (Teams TBA), 3 p.m., Innovation Credit Union iPlex.
Quarter final (Teams TBA), 7 p.m., Innovation Credit Union iPlex.
Friday, November 8
Semi final (Teams TBA), 6 p.m., Innovation Credit Union iPlex.
Saturday, November 9
Placement Game (Teams TBA), 11 a.m., Innovation Credit Union iPlex.