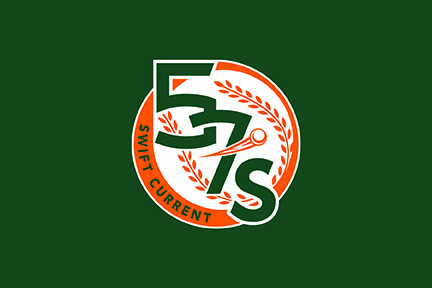 The wait was well worth it for the Swift Current 57's when the Western Canadian Baseball League finally announced it's league awards on Monday.
Longtime coach Joe Carnahan was named the WCBL Coach of the Year after leading the team to a 38-18 record, the third best mark in the 12-team league. Carnahan and the 57's faced significant adversity when many of the team's most productive players were lost due to injury during the regular season. Carnahan was able to recruit a talented cast of players during the season and led the team to a strong late season push and a playoff sweep of Weyburn, before being eliminated by the Regina Red Sox in the Eastern Division championship series.
The 57's also had six players named to the league all-star teams. Zach Patterson, Graeme Cherry, and Breyden Eckout were all named to the First All-Star Team.
Eckout was a steady presence for the 57's with a .327 average over 40 games in the infield and outfield. The Amhurst, NE native scored 36 runs and added 31 runs batted in in 40 games on his way to all-star status as a utility player. He also pitched in three regular season games and added two scoreless innings in the playoffs.
57's ace Zach Patterson was named an all-star starter after striking out 59 batters in 40 innings. He finished with a 2.45 earned run average and a 3-1 record in 10 starts.
Reliever Graeme Cherry rounded out the trio with a 2.86 ERA over 37.2 innings. He struck out 24 while walking only six.
Garrett Alexander, Kiel Krumwiede, and Ryan Magdic were named to the Second All-Star Team.
Alexander was named the second-team closer after picking up 12 saves in 19 appearances for the 57's. He finished with a 1.74 ERA after striking out 44 in 31 innings pitched.
Krumwiede returned to Swift Current for a third season and solidified the shortstop position. He hit .308 over 36 games and scored 34 runs to go along with 16 runs batted in.
Magdic, a sophomore from Beamsville, ON, had a huge impact with a .353 average, 25 RBI, and 17 runs scored in 37 games to fill the designated hitter spot on the second team.