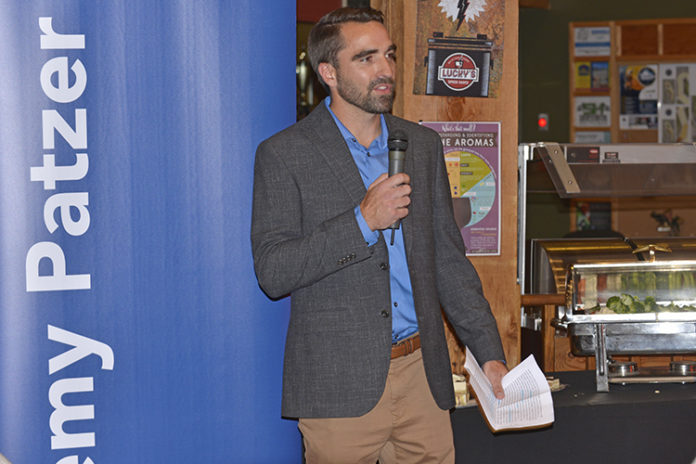 Jeremy Patzer rode a wave of disappointment with the current Liberal government all the way to Ottawa by easily capturing the federal election race in the Cypress Hills-Grasslands Constituency.
The solid bastion of support for the Conservative Party in the Southwest rose to record highs with Patzer earning 30,039 votes to receive an unprecedented 81.2 per cent of the votes (results with 170 of 172 polls reporting).
NDP candidate Trevor Peterson finished as runner-up with 3,512 votes (9.5 per cent), with the other candidates having little impact at the ballot box: William Caton (Liberals) 1,540 votes (4.2 per cent); Lee Harding (People's Party) 1,019 votes (2.8 per cent); Bill Clary (Green Party) 681 votes (1.8 per cent); and Maria Lewans (Independent) 211 votes (0.6 per cent).
Patzer's runaway win was part of a Saskatchewan Conservative election night sweep, and Patzer's margin of victory was second only to the 84.4 per cent of the vote earned by MP Robert Kitchen in Souris-Moose Mountain.
Patzer collected over 30,000 votes to outdistance the largest election win by previous MP David Anderson who earned 69.85 per cent of the ballots in the 2011 election.
The rookie MP said during the campaign he frequently heard about dissatisfaction with the Liberal government as a motivating factor for people to get out and vote.
"Just the reception that I got going around the riding, hearing from people just how motivated people were to get out and vote this year. There were a lot of people that hadn't voted before that said 'we're definitely getting out and voting. We're sick and tired of what's going on in Ottawa.' So people were motivated to get out and vote this time around," Patzer said during an election night event hosted at the Elmwood Golf Course.
The anger towards the Liberal government treatment of western Canada resulted in Saskatchewan Conservative candidates receiving 64 per cent support at the polls, with that number rising to 69 per cent in neighbouring Alberta.
"The biggest thing it really boils down to is a lack of respect for Western Canada. You can look at a few different issues whether it be the carbon tax or the no pipeline bill Bill C-69. Just not respecting the economy out here in Western Canada, what employs people, and what fuels the economy."
Patzer said the vote results shows the disconnect between the Liberal Party and the prairies.
"We look at what drives the economy nationally. We can see how Alberta and Saskatchewan helped carry the country through when the going was tough right. And our economy out here isn't being supported, so we've got to get that back."
Monday night's election win also extends a win streak by a Conservative/Reform candidate in the Southwest constituency to 20 consecutive elections and a span of 66 years. The last non Conservative sent to Ottawa was Liberal MP Irvin Studer who won in 1953.
Patzer replaces six time elected MP David Anderson who served the riding from November 2000 to September 2019. The now rookie MP was humbled by the support he received.
"Obviously it's overwhelming to see that for sure. There's a lot of great people out in this riding, and I had a chance to go out and meet them first hand. The best people in Canada live in Cypress Hills Grasslands. So there's great people out there and to have a chance to meet them has been fantastic and to receive their support. And I look forward to representing them the best that I can."
And while the Liberals will be at the helm of a minority government after winning 156 seats, the Conservatives ended up winning more of the popular vote, collecting just over six million votes compared to the 5.8 million cast for Liberal candidates.
"Obviously it's not what we were hoping for. But we're just going to get to work here and do the best that we can to hold this government accountable," Patzer said.
"The big issues for our riding are and continue to be agriculture and the energy sector. And with this being a rural riding, people want to make sure that we're being representatives for the rural people as well. So that's something that I'll focus on is making sure that we can bring that rural perspective to government."

ELECTION NOTES:
Elections Canada is reporting that a full 73.84 per cent of eligible voters in Cypress Hills Grasslands turned out to the polls, with 37,002 of 50,111 registered electors casting ballots.
In Saskatchewan, Cypress Hills-Grasslands is the Electoral District where candidates have the highest expense limit at $119,369. The lowest limit during the 43rd General Election in the province is Regina – Wascana at $99,543.
In Cypress Hills-Grasslands, a total of 8,470 advance ballots were cast over the past few weeks at a series of advance poling stations across the region.
During the 2015 Federal Election, a total of 4,781 ballots were cast at 15 different advance polling stations across the Cypress Hills Grasslands Constituency. Swift Current recorded 1141 advance voters. Kindersley was second with 607 advance votes cast.
Overall there were 149,043 advance ballots cast across the province.
Battlefords-Lloydminster – 8,734
Cypress Hills-Grasslands – 8,470
Desnethé–Missinippi–Churchill River – 5,045
Carlton Trail–Eagle Creek, 11,524
Moose Jaw–Lake Centre–Lanigan, 10,181
Prince Albert – 9,586
Regina–Lewvan – 14,394
Regina–Qu'Appelle – 9,205
Regina–Wascana – 13,572
Saskatoon–Grasswood – 14,710
Saskatoon–University – 14,816
Saskatoon West – 11,930
Souris–Moose Mountain – 9,264
Yorkton–Melville – 7,612