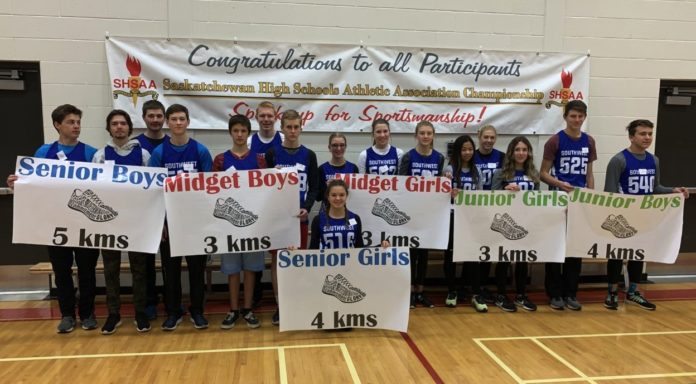 We had 24 runners (midget to senior) qualify for SHSAA provincials in Prince Albert on October 12, though only 16 runners were able to attend.
In the team event, SCCHS placed seventh in the 5A category.  Our Senior Boys combined score got them into the top 10 in the province (ninth place finish). In individual competitions, there were approximately 105 runners registered in each race. SWAC's best finish (for the second year in a row) came from Hillary Lacelle, she placed eighth in the province for junior girls. 
SHSAA Provincial results from the SWAC team: Senior girls: Kea Frase (SC) 34th. Senior boys: Zander Rommelaere (SC) 29th, Dylan Pierce (SC) 45th, Austin Coward (SC) 48th, Garrett Mitchell (Frontier) 73rd. Junior Girls: Hillary Lacelle (SC) 8th, Kirsten Hanson (SC) 35th, Alyssa Bennett (SC) 57th. Junior Boys: Ashton Schroeder (SC) 57th, Davis Keothler (SC) 76th. Midget Girls: Greta Lopeter (SC) 25th, Taylor Smith (Maple Creek) 54th, Eve Boss (SC) 86th. Midget Boys: Kyle Anderson (Frontier) 22nd, Greyson Dixon (Eastend) 88th, Jesse Arendt (Eastend) 91st.
SWAC Girls Volleyball League standings, after the girls fourth week of Tuesday night play: Gull Lake is in first place with 30 points, Frontier and Vanguard are tied for second with 15 points. Shaunavon has 12 points and Eastend and Hazlet are tied with six points. Host sites on Tuesday, Oct 15 are Eastend (Vanguard/Frontier) and Gull Lake (Hazlet/Shaunavon).
SWAC boys play their volleyball league on Wednesday nights. After four of weeks of matches, we have three teams tied for first place, Cabri, Shaunavon and Frontier all have 15 points. Vanguard is not far behind with 11 points.  On Wednesday, Oct 16, Vanguard hosts Cabri and Shaunavon hosts Frontier. Check with your school for game times for the girl/boy leagues.
The SCCHS Colt soccer team played Moose Jaw Peacock in the league final last week. The top seeded Colts defeated Moose Jaw Peacock to clinch their third league title in four years. SCCHS will play in Yorkton in the SHSAA regional soccer championship on Oct. 18-19. The Colts are also the host for SHSAA Provincial Soccer on October 25-26. Make sure to mark your calendars to come and see some of the best soccer in the province!!!
The SCCHS Ardens clinched their 11th consecutive soccer league championship last week. They had wins over Weyburn in the semi-final and Moose Jaw Central in the final. The team now starts their run at an SHSAA provincial soccer medal. They are in Weyburn for the 5A south regional championship on October 18-19.
In 9-man football games this past week, Shaunavon lost to Lumsden (37-22), and Maple Creek lost to Indian Head. The last regular league games are on Friday, Oct. 18. Maple Creek will be in Lumsden and Shaunavon will travel to Fort Qu'Appelle. Provincial quarter finals are on Saturday, Oct. 26.
Gull Lake lost an offensive battle with Hanley (74-56) in the 6-man football league. League playoffs begin on Oct 18-19 weekend. Stay tuned to "SWACSports" social media for updates on exact date/time/opponent.
The SCCHS Colts 12-man football team hosted Moose Jaw Vanier and came away with a decisive 54-8 win. Their last regular season game is on Saturday, Oct 19th. This is a home game vs Estevan at 1 p.m.
Junior Volleyball sectional playoffs will take place the week of October 21-26. Draws have been finalized and all schools participating have had their draws sent to them.
The Chinook Sports Report is submitted by Valerie Gordon.