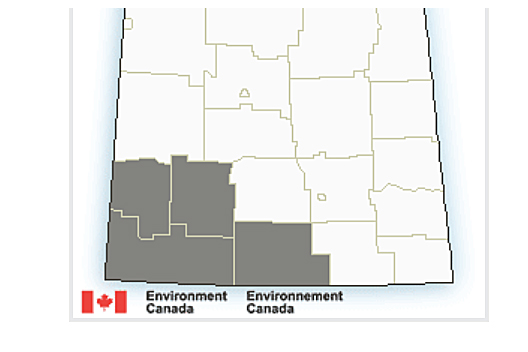 Environment Canada has issued a special weather statement for Southwest Saskatchewan advising of a significant early fall snowfall this weekend.
Environment Canada is advising that a major early-season snowstorm is expected to impact Alberta and Southwest Saskatchewan beginning Saturday afternoon. Snowfall totals on Saturday are expected to be minimal as a result of snow melting on contact with the warmer ground. However, on Saturday night through Sunday, significant snowfall accumulation could occur. There is the possibility of weekend accumulations of over 30 centimetres in the Cypress Hills, with the potential of accumulations of 10 to 20 centimetres across the alert regions.
To complicate travel conditions, the snow will be accompanied by strong northeast winds. The blowing snow will be most pronounced on Saturday night through Sunday.
Environment Canada notes this is a dynamic and evolving weather event. Updated forecasts and potential warnings will be issued as the storm developed and draws nearer.
People who have to travel this weekend are reminded to visit the Highway Hotline for the most up-to-date travel conditions.
As of mid Friday afternoon, the special weather statement was in effected for Leader – Gull Lake; Shaunavon – Maple Creek – Val Marie and Cypress Hills; Swift Current – Herbert – Cabri – Kyle and Lucky Lake; plus the Assiniboia – Gravelbourg and Coronach regions.
Environment Canada has also added a Frost Advisory for all of southern and central Saskatchewan for Friday night, with widespread portions of the province forecast to drop below freezing tonight.