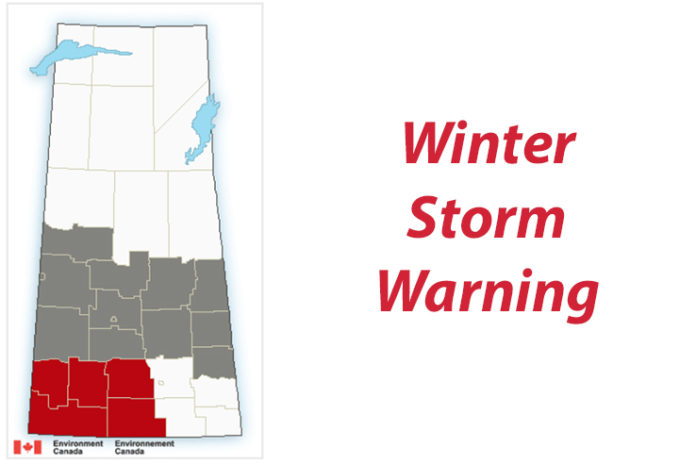 Environment Canada has released an updated Winter Storm Warning for the Southwest, with snowfall totals as high of 30 centimetres possible tonight and through Sunday.
In Saskatchewan, the warning of hazardous winter conditions is taking aim at the Southwest, with the worst conditions expected south of Swift Current and west of Assiniboia overnight and throughout the day on Sunday. Snow and blowing snow in this region will deliver significantly reduced visibilities.
Environment Canada notes that snowfalls could exceed 30 centimetres near the Cypress Hills. Areas south and east of Regina will only experience rain or mixed precipitation, while areas north of Saskatoon will escape the majority of the precipitation.
Swift Current's forecast is for two centimetres of snowfall tonight, followed by five to 10 centimetres of snow on Sunday morning and afternoon, with the potential of another 10 to 15 centimetres on Sunday night.
In Maple Creek, they are forecast to receive five to 10 centimetres of snowfall Saturday, accompanied by northeast winds of 40 kilometres per hour, with gusts up to 60. Sunday's forecast is for 10 to 15 centimetres of snow in the daytime, accompanied by northeast winds of 50 kilometres per hour and gusts up to 70. Another 10 to 15 centimes is possible on Sunday night, with the winds easing in the evening.
As of late Saturday afternoon, the Winter Storm Warning was in effected for Leader – Gull Lake; Shaunavon – Maple Creek – Val Marie and Cypress Hills; Swift Current – Herbert – Cabri – Kyle and Lucky Lake; plus the Assiniboia – Gravelbourg and Coronach regions.
Environment Canada is advising motorists to consider postponing non-essential travel until weather conditions improve.