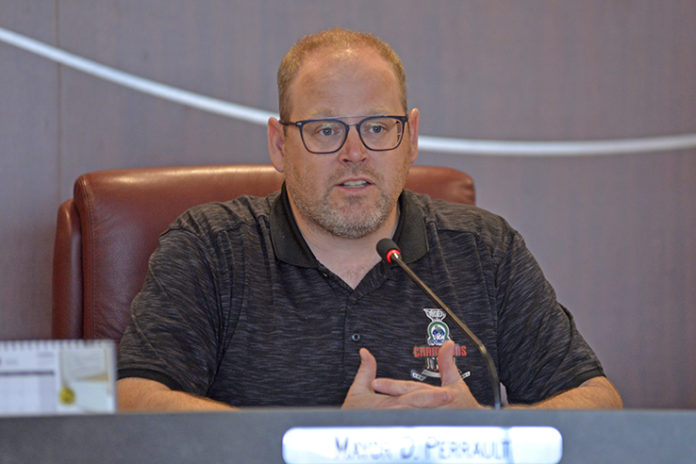 Swift Current City Council held a special council meeting this noon hour in order to approve a motion allowing for individuals and businesses to seek assistance through the Provincial Disaster Assistance Program.
Council unanimously approved a motion to be designated as an eligible assistance area and apply to the Ministry of Government Relations in order to access funding from the PDAP. The provincial fund provides financial assistance for restoring essential services and property, with council making the application in response to the substantial damages across the community from the flash flooding which occurred throughout the community after heavy rains fell on Tuesday, June 18. The extreme rainfall was rated as a one in 200 year plus event.
"Under the Provincial Disaster Assistance Program the city has to make an application before anybody who has sustained damage from flooding can apply for it. We could have done this at the next regularly scheduled meeting (July 15) of council, but then that would have meant that everybody would have had to wait. We felt that based on what happened, that it would be better if people could make application immediately while the damages are fresh," explained Tim Marcus, Chief Administrative Officer for the City of Swift Current.
A number of businesses and city residences experienced water damage as a result of rainfall amounts of five to 10 centimetres (two to four inches) which were reported at various spots in the community.
PDAP funding applications are available for businesses or homes that received over $5,000 in damages, and that damage is not covered by insurance.
"People that suffered damage can come get an application form at the Planning Desk at City Hall, fill it out and submit it to the province. And if they meet all the criteria, they should be eligible for funding," he explained.
Marcus noted that during the extreme rainfall event in 2016, which was less than the current rainfall totals, there were about 10 applicants that received assistance through the program.
Tuesday's late afternoon rainfall was an unprecedented weather event which was amongst the worst in city history. Marcus admitted he has not seen a heavier rainfall during his time in Swift Current.
"No I can't. People who have worked here for longer than I have can't remember a volume of that amount in that short of a time. I'm not sure if we've even ever had one where we would have gotten four inches in a little over an hour."
He added that the city storm drain system was overwhelmed by the sheer volume of rain that fell.
"When it comes down that fast it rushes past all the catch basins and just pools," he said. "Once the pipe is full there is no way you can get rid of the water until it dissipates on its own. It would be impossible to build a storm system to handle the volume of water like four inches of rain in a little over an hour. It's just not feasible."
There were various impacts caused by Tuesday's rain, and the additional rainfall which occurred on Wednesday afternoon.
Services at the E.I. Wood building had been suspended on Wednesday and Thursday by the Saskatchewan Health Authority as a result of the localized flooding which impacted the facility. However services and client appointments will resume as of 8 a.m. on Friday.
Mayor Denis Perrault extended his appreciation for the city crews who spent long hours assisting with clean up efforts. Additional work was also put in by emergency services workers in the Fire Department, EMS and RCMP to make the community safe during that time period.
"I want to say thank you for the sacrifices they made to their family, to their friends, in order to keep all of us safe, which the entire time that was their priority as well as ours, which was public safety."
He also extended his appreciation to local remediation companies and contractors who were quick to lend a hand.
"Thank you to all those who reached out to offer support when needed, either with equipment or with men and women."
As a cautionary message, Perrault also reminded pedestrians to avoid walking in flooded areas, and for vehicles to not risk driving through high water areas.
"Just to remind our pedestrians and motorist, if you do see an event like this and you are encouraged to stay off the roads, please do so. We saw many videos, and I'm sure all of us did as well, where vehicles were going at a pretty good clip throughout some pretty flooded areas and it definitely did not help any."