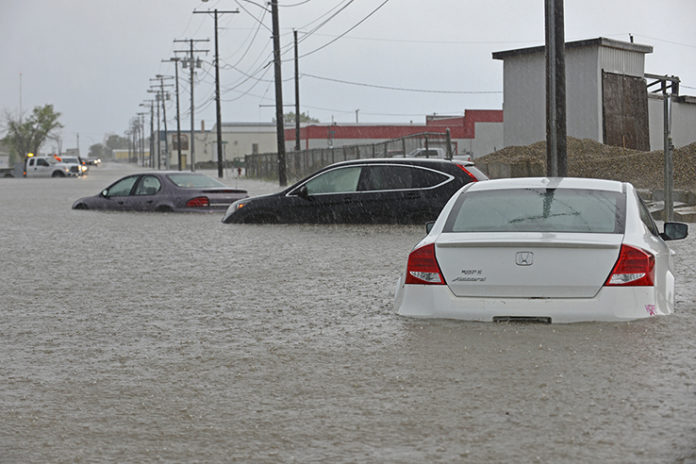 A major rainfall event caused flooding across Swift Current on Tuesday, with a sudden heavy rain dropping close to 28 millimetres of precipitation during the late afternoon.
"We saw lots of thundershowers start getting going there in Southwestern Saskatchewan, and it looks like one of them was a direct hit over Swift Current," explained Terri Lang, a Meteorologist with Environment and Climate Change Canada. She made her comments during a phone interview on Tuesday shortly after 7 p.m.
The heaviest rain fell between 4 p.m. and 5 p.m. on June 18, but more rain over the next hour added to the water woes.
"We saw, just in one hour, it looks like about 18 millimetres of rain fell. And that doesn't sound like a lot, but when it's raining really hard like that, the sewers have trouble uptaking the water, the ground that is so dry has trouble taking up the water that fast. So that's why we're seeing this localized flooding. It just came a little too fast. 18 millimetres in 24 hours is a lot different than 18 millimetres in an hour."
The situation was made worse when an additional 10 millimetres fell during the following hour, bringing the rainfall total to close to 28 millimetres in a two hour span.
"These showers hit some of the other spots, but they certainly did not come in with the vigour that they came into Swift Current."
A wind gust of 60 kilometres per hour accompanied the storm, which included some hail during the first portion of the storm.
Mitch Minken, General Manager, Infrastructure and Operation for the City of Swift Current, said the City was out quickly to try and turn motorists away from the worst flooded areas.
"Since I've been sitting in this chair, this is about the third or fourth one, and it looks like it was by far the most rain we've gotten in the shortest period of time," Minken said.
"We try and get people out to block flooded areas as much as we can. Obviously, there's more areas than we have people, but we try and block those areas so that people don't go driving through and get their cars stuck in the water and they're not at risk."
"After we get that done, we'll try and make sure that catch basins are clear of leaves and twigs, and they're draining as they should."
He noted that keeping people away from the flooding is their main priority in the aftermath of the storm.
"The big one that's always an issue for us is trying to keep people out of driving through the flooded areas, as a vehicle goes through there it creates waves and just makes the situation even worse as it goes up against buildings."
He anticipated when the final rainfall totals are calculated, Tuesday's storm will be a one in one hundred rainfall event or worse.