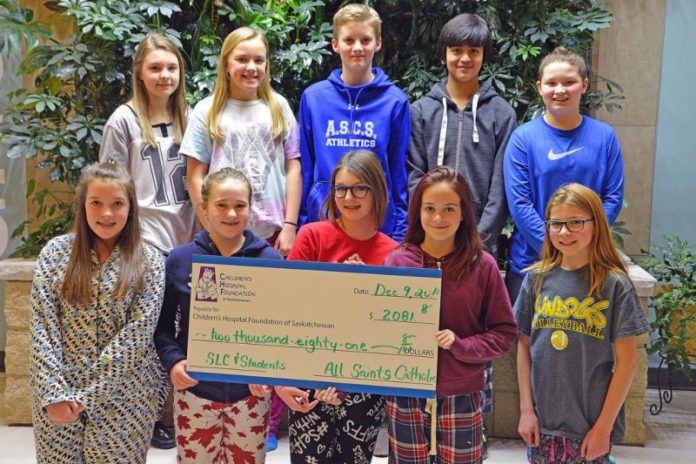 Student Leadership Council raises more than $2000 by Jammin' 4 Kids
Students from All Saints Catholic School managed to collect an impressive amount of money for the Children's Hospital Foundation of Saskatchewan – a cheque worth more than $2000, which was presented to the Foundation on Friday by the Student Leadership Council (SLC).
"A couple of weeks ago, we actually had a separate day where we collected the donations for Jammin' [4 Kids] in our jammies," explained Grade 8 student Kamryn Johnson. "We played music throughout the day for the kids to get up and dance to. Before that, we just planned on doing this, and we went around and spread the word and collected on the day of."
Students from All Saints were sent home with pledge forms, and they could either collect donations from their families or their neighborhoods.
"I think it's great," said Carson Hadden, a fellow Grade 8 All Saints student.
"Our school has donated this money, and I think it's great that we did it because no one else has done it. We've challenged other schools to do it, so I think it'll work out good."
On Friday, officials from the Children's Hospital Foundation were at All Saints for a special FaceTime question and answer session with Dr. Kris Milbrandt, a pediatric surgeon at Saskatoon's Royal University Hospital.
Dr. Milbrandt, who will eventually work at the Children's Hospital once it's completed, fielded questions about his work and the new hospital for SLC students for nearly an hour on Friday afternoon.
"I learned a lot of stuff about where the money was going, and how it'll help kids. And why the money was needed and why we need the hospital," observed Johnson.
The Children's Hospital Foundation of Saskatchewan came up with the "Jammin' 4 Kids" fundraiser and put it into action last year, explained the Foundation's Provincial Engagement Manager, Sash Broda.
"I think that's the coolest part about this initiative, is that it's children raising money to give back to the kids that they might know, whether it's in their communities or their schools, or in a different city, or it's their cousin… that's the cool part for these kids."
For Carson Hadden, raising money for the Children's Hospital is a priority. "I think it's very special, because my cousin… I just lost my cousin to cancer, and my uncle as well… and it really hits home for me."
Broda says All Saints' donation is impressive.
"A lot of the schools, generally it's $500-$1000 [donations]. It's pretty typical. So when you get schools doing anything over $1500, it's pretty significant to see."
Johnson is encouraging other schools to meet All Saints' challenge to raise money.
"It's really special to me because it's not fair to the kids who have to go to different provinces away from their families and friends to get treatment that they deserve to have close to them."