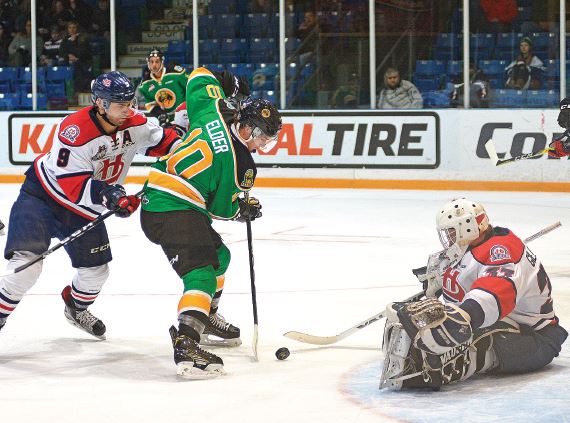 The Swift Current Broncos were outscored 12-2 over five periods but fought back in their final period of the weekend to salvage a single point with a thrilling comeback effort.
They finished the week with a 15-10-3-4 record in their familiar third spot in the East Division. Friday, the Broncos' rematch with the Regina Pats ended in an 8-1 loss. Kaden Elder scored the only goal, on the power play, in the first period to cut the deficit to 2-1.
The Pats got two-goal outings from Nick Henry, Connor Hobbs, and Dawson Leedahl, who finished with three assists as well. Riley Woods and Filip Ahl also scored and Tyler Brown made 26 saves in the win.
Taz Burman took the loss after allowing four goals on 16 shots over 23:17. Travis Child played the final 36:43 and made 25 saves on 29 shots. Saturday, the Broncos couldn't get much going over the opening 40 minutes and trailed 4-1 to the visiting Lethbridge Hurricanes. Jordy Bellerive, Tanner Nagel, Colton Kroeker, and Brett Davis all scored for the Hurricanes, while Ryan Graham responded for the Broncos with his ninth goal of the season, his eighth goal in eight games since joining the team in a trade from the Saskatoon Blades.
The Broncos were a different team in the third period and got their comeback started early when Aleksi Heponiemi red his seventh goal of the season home only 30 seconds in. Colby Sissons made it a one goal game midway through the period and Lane Pederson quickly tied the game with his 14th goal.
The comeback earned the Broncos a single point, but Brennan Menell ended the game only 43 seconds into overtime for a 5-4 Lethbridge win.
The Broncos are now 4-3 during games decided in the three-on-three overtime period. The Broncos will play their final two games before the holiday break this weekend, beginning Friday when they host the Prince Albert Raiders. The Broncos will return the visit to Prince Albert on Saturday before a nine-day break for the holidays.
The Raiders were last in the WHL with a 6-23-1-1 record and came out of the weekend with only one win in their last 10 games. The Broncos have won all three head-to-head meetings, twice on the road and once at home. Pederson and Heponiemi each have four points against the Raiders so far this season.
Bronco Bits: 2016 first round draft pick Logan Barlage was named the Saskatchewan Midget AAA Hockey League November Player of the Month after posting eight goals and 11 assists in 11 games. The 15-year-old forward has 17 goals and 21 assists in 24 games with the Prince Albert Mintos.