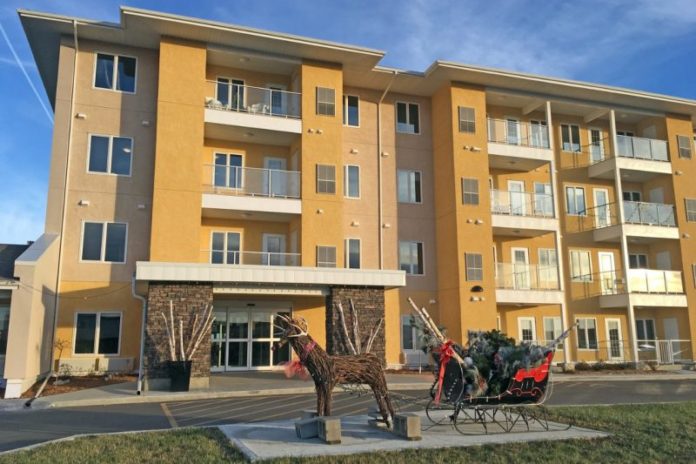 The key word is "village" for Swift Current's largest retirement living quarters.
"This is their home, and we're here to help them," commented Riverview Village Estates co-manager, Diana Hanke of the vision for staff members.
"Whatever that looks like for each individual family, that's what we try and do because we are their arms and legs maybe, or we are their advocate when we need to be, and we help their families."
Phase 3 of Riverview opened on Friday, November 25, and among those making the rounds was City Councillor Ron Toles and wife Carol.
"This is an amazing building," Toles observed. "We've been here before and had a tour so it's not like we're seeing it for the first time, but it's just the way they have it all decorated up for Christmas and the amenities they have for the people that live here, it's just quite an exciting place."
The facility is a non-profit, community-owned retirement housing project located at the south end of 2nd Avenue Southeast. Residents who move into Riverview sign what's called a "life lease", which expresses the resident's intention to live at Riverview according to its bylaws. The value of the lease is paid up front, like the resident was purchasing a home.
The residents can live in the condos at Riverview for as long as they like, and can move out at any time. Should residents move out, the non-profit board guarantees them that they will refund their full life-lease price, minus any reclamation costs up to a maximum of five percent of the condo's leased value.
"In the village are different services that they may or may not use," explained Hanke.
"The youngest one [resident] is 65 years old, and it goes all the way up to 100. So some of our younger residents, they go south for the winter or they go out to Vancouver, or Victoria… and some that need more care and more support live here. So we go right from a retirement village of being younger and only having to move once instead of twice, to somebody that needs a little bit more support. And they can usually live here a lot longer because they're supported with some of the needs that they may have."
The amenities at Riverview are plenty – Hanke noted the food services that are offered by the in-house chef must be competitive as residents have their own kitchens in their condos. They do not have to partake in the offered food services at Riverview – but Fish Friday remains a very popular choice for residents and staff alike.
"Another amenity that we're getting, and she's coming the first part of December, is a massage therapist," Hanke continued.
"We have a hair salon, residents can host their families for wonderful events [in some of the larger rooms], we've had weddings here, we've had memorials in the Great Room." There's also an opportunity to have what staff calls a "bed and breakfast", where visiting family members can actually come and stay at Riverview in a different room, for a fee, to be closer to loved ones who are residents.
The 167 residents (average age – 82) at Riverview also get to partake in daily exercises, enjoy a craft room, a games room, and a construction shop. Gardening has been popular too, said Hanke. "There are gardens out back. We had to double the garden space this year."
Riverview can accommodate a maximum of just over 200 residents, depending on how many are moving into the unit. Hank said there are a lot of couples who move in to the Village together. The 10,000 square foot building is secure, providing peace of mind for both residents and their families alike.
Hanke didn't hesitate when she was asked what is the most rewarding part of her position at Riverview. "The people."
Phase 3 has been important to the residents, she said. "They love it. They just love it here and it's not the building… the building helps a lot, but it's the people that live here, and the people that support them."
For more information about Riverview Village Estates, visit www.rview.ca or call 306-773-8146.