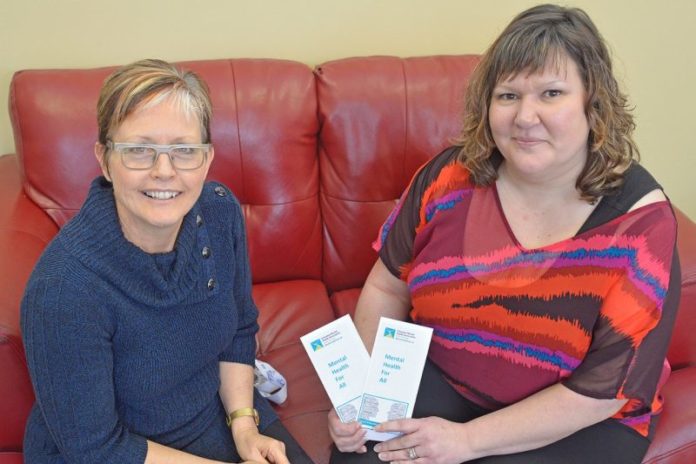 Cortney Reynolds is ready to continue fighting the stigma surrounding mental health
After a lengthy search, Swift Current's branch of the Canadian Mental Health Association has found an excellent candidate to continue building the legacy of the non-profit organization in the southwest, now that the well-known former Executive Director, Ruth Smith, has retired.
Cortney Reynolds is the new Executive Director, and she's no stranger to working with partner agencies in the southwest. In her last role, she was the Coordinator for the Regional Intersectoral Committee (the RIC).
"I think that through the RIC, my last job, we had our core group of our people from the education and School Divisions, and Health Region, and the Ministries, and so I think that those partnerships and the information that we were able to gain about community needs and where the gaps are," commented Reynolds.
"I think that's something that Ruth and I are always very much on the same page about, is we want to partner and my previous job was all about partnerships. I think, together, we can really make a difference and work towards change. It doesn't always need to be re-inventing the wheel, it's about the organization and helping people. That's our goal, is how can we help people?"
The first order for business for Reynolds as she transitions into the new role this week is to re-connect with some of the partners in different sectors, and then the plan is to continue empowering the community.
"I think education is so key for everything, whether it's education of our professionals, or the individuals that are working with people… if we can build capacity there. Or, providing that information to people that everybody has struggles, and mental wellness is part of your holistic health, and it doesn't mean that it's a chronic, life-long label, or disease, it can be when you're going through life transitions that you may have struggles. And I think this is across the board, not just in Swift Current, but how can we continue to get the message out that it's what everybody experiences at some point – it's typical. There is no normal. But I really truly believe that in everyone's life, at some point, you're going to deal with issues and I think it's all about the mental wellness and 'mental health' doesn't need to be schizophrenia or bi-polar… it's people that are anxious for a portion of life. Or feeling low. I think that's part of the direction that we want to go," Reynolds explained.
Reynolds, who has a Bachelor of Health Sciences and Addictions Counseling, says the CMHA will be looking to shape their direction going forward in terms of the community's needs.
"I want to know what people are seeing. What are the people that work with individuals that are vulnerable, what are they seeing? What are the needs? And then we'll tailor what we're doing in the direction that we go to meet these community needs."
Smith, who was in the role for more than a decade and became a champion for open communication about mental illness and "breaking the stigma", says she's excited that Reynolds was chosen as the next person to continue fostering that positive change in the southwest.
"There is something about feeling okay with the fact that you're 'letting go' of something that you feel like you've really worked hard to build up," said Smith, "to somebody that you have confidence in, who's going to take it that to that next step, and I really feel that. That's not fake, I really feel that way. I'm so pleased because it could be hard to let things go, it could be, but it's not. I mean, it's still sad, and Cortney has promised that I can be on some committees, but I am really, really happy that she [Reynolds] has chosen to be here. And I just can see that there's so much more that CMHA could be to the community of Swift Current."
Reynolds is quick to say that she has big shoes to fill in her new role, having had the opportunity to work with the CMHA through her employment with the RIC. Smith and Reynolds worked together for throughout the month of December to ensure a smooth transition for all parties.
"Ruth has been so encouraging," Reynolds commented.
"She's given us such good roots in Swift Current and the community and previous partnerships that we have had have all been positive. So I couldn't be any more blessed in terms of that transition. Our goal is to recruit her for some committees and projects and she is such an asset. I so appreciate the way Ruth thinks. She sees this big picture of our community. She's such a community person. I know there can sometimes be competitiveness in the non-profit world because there are few dollars and we're all competing, sometimes, for those same dollars. But when I hear her say things like, 'We used to get the money for this, and now it goes there, as it should because there are so many needs!' Or, 'We got a donation, but we can't use it, so we're going to call so-and-so and pay it forward.' Or, 'This grant came across my desk, but I think it's a better fit for this organization so I passed the information on.' It's that really community-minded holistic approach to what you're doing."