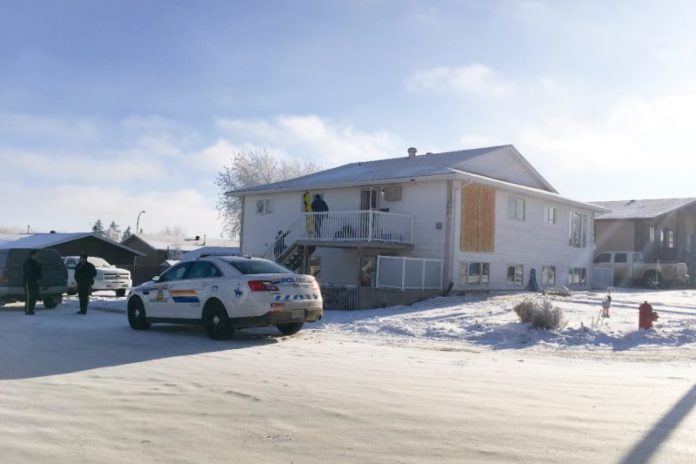 The 32-year old Swift Current man faces multiple drug charges
The man at the centre of a Canada-wide warrant was apprehended by Swift Current Municipal police yesterday following a lengthy standoff with police at a residence on Cowie Crescent. 
Jordan Marleau, 32, faces a total of six charges, including four charges under the Controlled Drugs and Substances Act. These charges are in relation to a search warrant that was executed on December 21, 2016, at another residence in Swift Current.
Police received information that indicated there were possibly firearms within the residence on Cowie Crescent at which Marleau was believed to be hiding.
As a result, the RCMP's Emergency Response Team (ERT) was deployed to assist.
Nicholas Neufeld, 18, and Courtney Hill, 22, both of Swift Current, exited the house on Cowie Crescent without incident at 4:35 pm on Monday. Both Neufeld and Hill appeared in Swift Current Provincial Court on Tuesday afternoon, each facing one count of obstructing a police officer. Court documents allege that both Neufeld and Hill lied about the whereabouts of Jordan Marleau.
Both Neufeld and Hill were released on an undertaking with various conditions imposed. The two may not have contact with one another, nor with Jordan Marleau or Andre Descoteaux, Marleau's co-accused from the December 21 arrest. Descoteaux has another court appearance on January 4.
Jordan Marleau was taken into police custody at 7:35pm Monday after police entered the Cowie Crescent residence.
No firearms were discharged throughout the lengthy incident on Monday.
Marleau appeared in Swift Current Provincial Court on Tuesday and has been remanded into custody in Regina while he awaits appointment of legal counsel. His next court appearance is Monday, January 9 at 10:30am by video link.
Marleau is to have no contact with Andre Descoteaux, Nicole Heschel, or his two co-accused from the incident Monday.