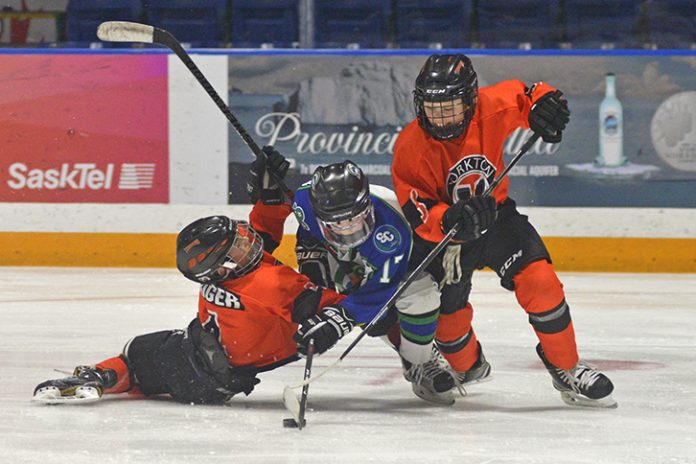 The Swift Current Tarpon Energy Atom AA Broncos finished as runners up in the Atom Tier I Division final against the powerhouse Yorkton Terriers.
Yorkton earned an 11-6 series victory over Swift Current in the two-game, total-goal championship series. The Terriers posted a 6-4 victory in Yorkton on Thursday, and they captured the league title with a 5-2 win at the Innovation Credit Union iPlex on Saturday afternoon.
Yorkton had an unbeaten 20 win season in the Atom Tier I Division regular season, with Swift Current placing second with a 13-7 record. Swift Current advanced into the championship final with a 15-8 two-game, total-goal victory over Estevan.
In game one, Yorkton jumped into a 4-0 first period advantage and they opened a 6-1 lead before Swift Current offence got into gear. Daxer Schroeder paced the Broncos offence with two goals and one helper. Griffin Darby chipped in with a goal and two assists. Mason Fauser chipped in with a single goal and one assist, with Hayden Winslow also notching an assist.
Swift Current had an ideal start in game two on Saturday, with Hayden Winslow scoring the lone goal of the opening period and making it a 6-5 series. Carter Moen and Kasey Gleim had assists on the goal.
Yorkton responded with five consecutive goals, making it a 3-1 game after two and putting the series away with the first two goals of the final period.
Swift Current rounded out the scoring when Gleim converted a pass from Darby with 1:17 left in regulation.
Atom Broncos Coach Kevin Leshures said the two teams were on a collision course for the championship for the entire season.
"It was a really good season. There is no shame in losing to a team like Yorkton. That's one really good team we played out there today. They're probably the best team in the province, and we're one of the few teams that can push them," Leshures said.
"They're just a really tough squad to beat, and they proved why they're probably the best in the province today."
He pointed out that a highlight for the Broncos was winning top spot at a 32-team tournament in Regina back in January where Swift Current posted a 2-0 shutout win over Yorkton in the semi-final game.
"We took away a big feather in the their cap when we beat them in Regina and won that Regina tournament, so they were coming and they wanted this really bad."
The final series loss does not take away from a strong season of progress by the young players.
"We've had a really good season as far as league and tournament play goes. It has basically been us and them all year. We've been the teams that everybody predicted would be here and battle for it, and it was a battle and they just came out on time. It was a good learning experience for the boys, and hopefully our returning players remember watching them go over and get that banner and it motivates them for next year."
The Atom Broncos will have five returning players, providing them with a good core of players to make a run at a championship again next year.