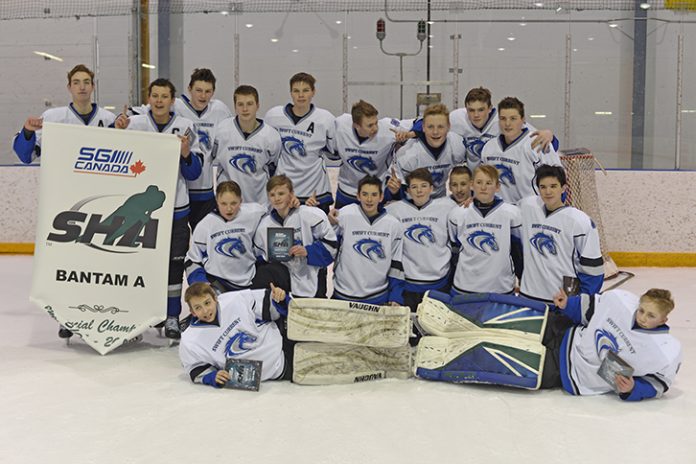 The Swift Current Bantam A Broncos earned the SHA Bantam A provincial championship with a dominating 11-4 two-game, total-goal series victory over the Lumsden Lions.
Swift Current punctuated the series win with a solid 8-3 win on home ice on Sunday. Kai Haubrich led all scorers with a hat trick and three assists. Ben Patenaude had two goals and three assists. Connor Choo-Foo had a goal and three assists. Garrett Kurtz and Ashton Schroeder both added single goals and one assist. Assists were also collected by Theo McGuire and Austin Calkins.
In the series opener on Friday the Broncos skated to a 3-1 win over host Lumsden. Kurtz scored the only goal of the opening period with assists from Kaden Regier and Austin Calkins. Kurtz notched his second of the game in the middle period on assists from Ryder Smith and Ryder Knutson to give Swift Current a 2-0 lead after two periods. After Lumsden got on the board midway through the final period, Haubrich put the game out of reach with an unassisted goal with 8:06 left in regulation.
Swift Current breezed through the North qualifying by earning a 15-2 series win over Battlefords, followed by a 13-9 victory over Martinsville which included a 9-2 home ice win in the North Final.