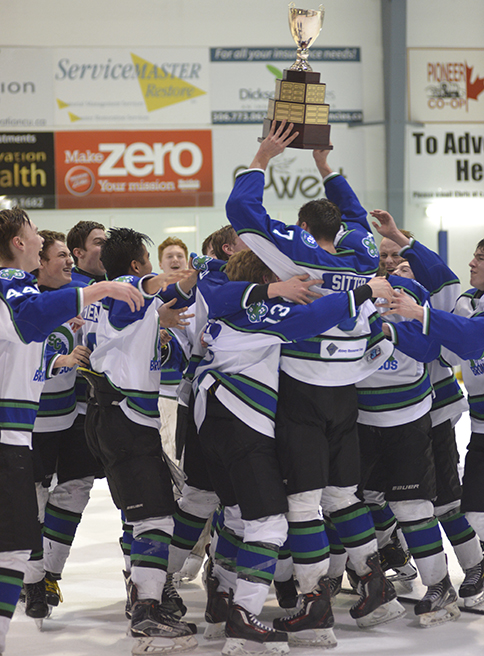 The Swift Current Abbey Resources Broncos are South Sask Midget Division Champions after skating to a 3-1 win over the Regina Vics.
Swift Current swept the best-of-five division championship final after earning a 3-2 series opening win on March 16, and posting a 5-2 win over the Vics in Regina on March 17.
In Thursday's deciding game, Swift Current jumped into a 2-0 first period lead on goals from Brock Oberle and Hunter Johnson.
Swift Current extended their lead to 3-0 when regular season scoring leader Ryland Hornung scored 2:29 into the second period.
Regina's lone goal was scored by Jackson Smith midway through the middle period.
Justin Dueck posted the net minding victory for Swift Current by turning away 24 of 25 shots. Regina goaltender stopped 28 of 31 shots in the loss.
Dueck, who won the final two games of the series, giving up just two goals each game, said the defence played solidly in front of him.
"Our defence did a really good job of getting them clear so I could see the puck," Dueck admitted. "They were super helpful. They didn't let up a lot of great chances. When they did I was there to stop them."
He said they are now looking forward to facing the Centre Four League winners for the provincial championship.
"We just have to refocus. We don't know who our opponents going to be. We haven't seen any of them so far, so we're hoping for a good match-up."
He also feels the Broncos have another gear that they haven't used this post season.
"I don't think we've played our full 60 minutes yet. We're looking to pull that off in the next series."
Broncos captain Jackson Sitter said their championship run has been more enjoyable because of the progress they have made as a team.
"It means a lot coming from where we were two years ago. It feels great to go this far and come along like that."
Sitter said they had to stick to their game plan to keep ahead of a gritty Regina team.
"We just had to push the intensity and push the pace as far as we could, and set the tempo for the full 60."
"We worked hard and stuck to the basics. That made it easier for us. We got some bounces where we needed them sometimes. It just all went right."
He added that it was sweet to win in front of a loud home ice crowd.
"It feels great with all our fans here."
Swift Current has now completed a perfect 36-0 regular season and have enjoyed a 9-0 playoff run to remain unbeaten this season.