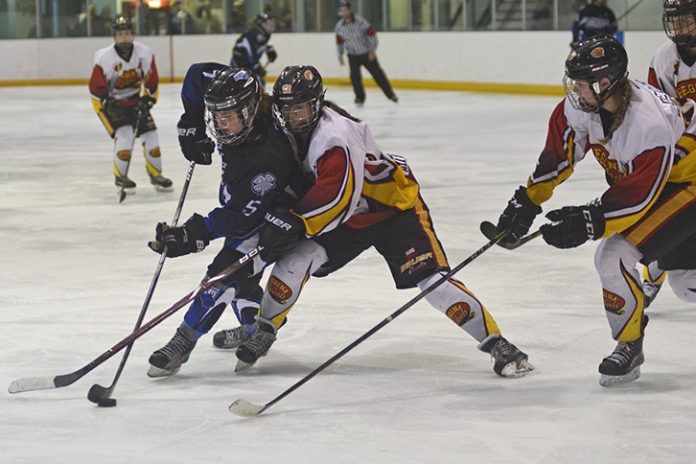 A cruel bad bounce at the worst time has brought an end to the season for the Swift Current Diamond Energy Wildcats.
Swift Current fell 3-2 in overtime to the Regina Rebels on a goal which rang along the boards, deflected off a Wildcats defender behind the net and then bounced off the back of the goaltenders skate.
Regina wins the best-of-five Saskatchewan Female Midget AAA Hockey League semi-final by a 3-1 margin and advances into the championship final against the winner of the Saskatoon Stars versus Notre Dame Hounds series.
The flukey overtime goal 4:13 into a 10 minute overtime negated a spirited third period comeback where the Wildcats scored twice in a 4:28 span to tie the game at 2-2.
Carissa Hogan scored the first Swift Current goal 1:18 in the third period when her shot rang off the crossbar and into the net.
Taylor Lind scored a shorthanded marker 5:46 into the final period on a nifty wrap around to tie the game.
Regina and jumped out to a 2-0 first period lead on goals from Lauren Focht and Larissa Bohiken.
Rebels goaltender Chantel Weller stopped 21 of 23 shots in the win. Wildcat net minder Amaya Giraudier made 26 saves on 29 shots in the defeat.
"Probably the biggest problem is we dug ourselves a hole too much. And you expend too much energy trying to come back all the time. And you can never have a mistake because you're always trying to play catch up," Wildcats head coach Terry Pavely said following the loss.
Swift Current lost game three in Regina on Tuesday night by a 4-2 count, where they again spotted the Rebels to a 2-0 first period advantage.
"The last two games that's kind of what got us. We spotted them 2-0 leads. We tried to come back yesterday and couldn't quite muster it. Then again today we made a valiant effort but the game was tilting in their favour as the game went on. You could see it in the shot totals, we had the edge in shot total early and then they kind of took over late.
"I give credit to them. They work hard. They're a deep team. They play aggressive and push the pace on you and as you get tired it even gets more difficult.
"That was probably the story, they were just able to play that pace a little bit longer for stretches then we were."