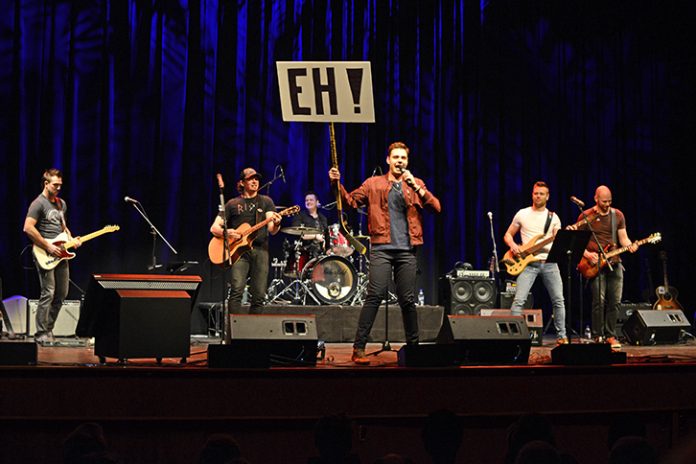 The red hot Hunter Brothers hit pause on their cross Canada tour with Paul Brandt to perform at the Music of Hockey Day in Swift Current on February 6.
As the kick off event for the four day Scotiabank Hockey Day in Canada celebrations in Swift Current, the musical siblings from Shaunavon were right at home on stage in what is essentially a hometown show for brothers Luke, J.J., Ty, Brock and Dusty Hunter.
They kicked off the second half of the night of music hosted by Ron MacLean with an original song written for the Hockey Day concert, along with their hit Born and Raised which was selected by hockey fans to serve as the anthem of the 2019 International Ice Hockey Federation's World Junior Championships.
"We wanted to do something that was engaging," chuckled Ty Hunter of the original song they contributed for the evening. "So we put a lot of lyrics in that were relevant to Hockey Day as well as just our upbringing with hockey. And we wanted it to be a crowd participation song, so we used the overused term "Eh". I don't know if I use that all the time as a Canadian, but we figured lets actually be part of the stereotype today and say it over and over."
Ty admitted they were quickly on board when they had a chance to perform during the evening.
"It was awesome. When the opportunity came up it was like it was meant to be. Because we had a day off between Regina and Saskatoon's concerts…we absolutely wanted to be part of things."
The Hunter Brothers were featured in one of the segments of the Sportsnet televised Hockey Day in Canada on February 9. The segment shared the story of how hockey and music have been mainstays for the brothers their entire lives.
The feature was shown just as their musical careers are on an upward trajectory. They are currently in the midst of The Journey Tour 2019 with headliner Paul Brandt, High Valley and Jess Moskaluke. Plus their sophomore release State of Mind began this week sitting second on the Canadian iTunes country album sales charts.
"It's been really humbling. We're really, really grateful for the response of everybody out there. We released State of Mind the day that the Journey tour actually began, so it was a very exciting Friday for us. It was at the top of the iTunes charts for a week at least. So we're very thankful to everybody who's been purchasing and downloading the song."
Luke Hunter also reflected on the wild ride they have enjoyed since the start of their cross Canada tour in Abbotsford on January 25.
"It has been nothing short of surreal for us boys honestly. We grew up watching and listening to Paul Brandt as kids. Wow, what an honour its been over the past couple of weeks already to be able to perform with him. He's treated us incredible. We are so thankful and feel blessed to be a part of his Journey tour," Luke said following their performance at the Living Sky Casino Event Centre.
After their Swift Current performance they were back on the road for the remaining 17 dates in their Cross Canada tour.
"It's exciting that we still have another three or four weeks to go with him, but wow, what a ride it's been so far. It's just been a wonderful experience," he said.
"For this to be our first big tour, to be able to do it with Paul Brand, High Valley and Jess Moskaluke, has just been a dream come true for us boys. And the timing of our album coming out, and the release of it landing on the tour dates has been really special for us."
Luke was also excited to be performing in Swift Current again after his five-year career with the Swift Current Broncos between 2001 and 2006.
"Coming back to Swift Current always feels like coming back home. Playing five years with the Swift Current Broncos, they are some of the fondest memories that I have growing up. My 20 year old year, I had spent a quarter of my life to that date here in Swift Current. And everything from the organization, to the fans, to my billets Jim and Marilyn Ginther, I have nothing but incredible things to say about Swift Current and the time that I spent here. I will always forever look back to Swift as being a special place in my heart."
The musical evening on February 6 also featured performances by the SCCHS Chamber Singers, Ryan Boldt, Tara Slone, Juno Award nominee Leonard Sumner, and Bryan Trottier. The house band for the evening was the super talented Bidiniband.
"It was great. Wonderful variety," admitted Luke Hunter. "And even better was backstage, we got to know some of the artists backstage which was a lot of fun. That's been almost one of the funnest things about the musical journey is getting to not only hear great music from great musicians, but getting to know them as people. And that was no different tonight."