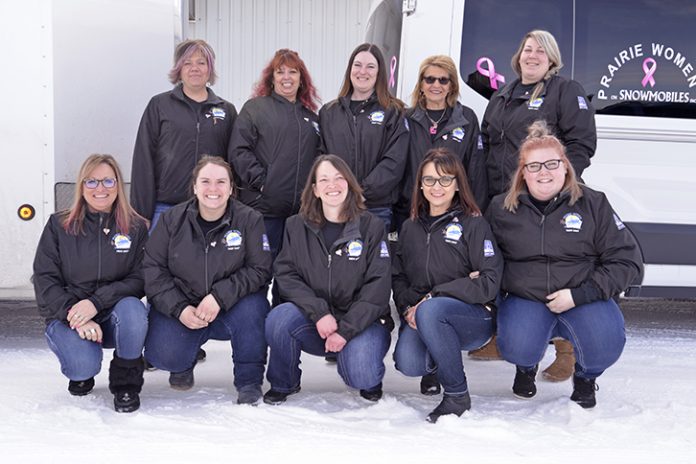 While Southwest residents did not get a chance to see the Prairie Women on Snowmobiles ride through the region, local financial support did help contribute to a successful 2019 fundraiser.
The 2019 Prairie Women on Snowmobiles raised a total of $83,709 in support of breast cancer research, with $23,900 raised for the Canadian Cancer Society and an impressive $59,808 for the Saskatchewan Cancer Agency.
The 10 core riders of the group tackled the over 1,400 kilometre trip from February 3 to 8, with the Prairie Women on Snowmobiles travelling through the Southwest during day three and day four of their journey.
Kelly Kim Rea, President of Prairie Women on Snowmobiles, said they did enjoy both a snowy start and finish to their trip. They began with a kick off banquet in Meadow Lake on February 2, and they had ideal riding conditions for their first day from Meadow Lake to North Battleford.
"The snow was fantastic. It was so deep. The girls were getting stuck. It was a good day of riding. Day one was fantastic."
The riders were still on their sleds to start Day Two from North Battleford to Kindersley, however they got off their snowmobiles in Kerrobert because of the lack of snow.
"Up to Kerrobert the snow was wonderful. The girls were so happy, all smiles."
Day three and four of their journey was spent in their van. On Tuesday, February 5 they travelled from Kindersley to Maple Creek, and on Wednesday, February 6 they journeyed from Maple Creek to Rosetown.
"Even though we're in the van it's not that bad. The whole point is to get out and meet the people and get our message out there. When we're in the van we can actually travel a little faster so it's nice that we can spend a little longer at each of our venues and have a great visit with the people and answer their questions. And they love to see us and interact with the girls. That's the wonderful thing about having short days."
She pointed out that the participants are not just out for a recreational ride during their time on tour.
"That is our job for this week. When they make their application to become a core rider, that is what they're planning to do. It's a job. It's not a trail ride. They're coming to do a job and to get the message out there. And work through the pain, because the riding portion is pretty painful."
She pointed out that they covered 240 kilometres (150 miles) during their first day, and 160 kilometres (100 miles) during day two.
"Had we been on the day for all six, these ladies would have done over 1,400 kilometres. That is in six days."
The 10 core riders were Brittany Fox (Lampman); Kim Hladun (Canora); Shawna Leson (Canora); Arlene Lockinger (Humboldt); Kaylee Plamondon (Naicam); Janis Stanley (Carievale); Alison Taylor (Carievale); Nadine Wiebe-Trapp (Emma Lake); Brandi Kashuba (Preeceville); and Shauna Menzel (Saskatoon).
"When you sign up to be a core rider you're doing it because you truly do believe in the cause. And every single one of them has a reason to be here, and it's bigger than any of us."
As part of each stop, they met breast cancer survivors for a special pinning ceremony.
"(We) meet the survivors, give them a hug and congratulations. Meet the people who are in their battle right now, give them words of encouragement. And they can see and hear that breast cancer is now beatable. With early detection we can beat this dreaded disease. And we are so close to a cure. I know one day we'll find it. And one day very soon, I'm really looking forward to that day."
This was only their second time travelling through the Southwest, with their last trip in 2014.