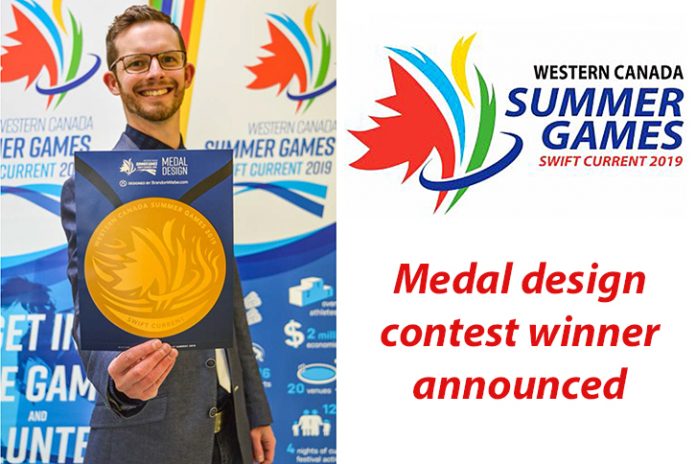 The creativity of local designer Brandon Wiebe will be featured on the medals which will be awarded at the 2019 Western Canada Summer Games.
Wiebe's design was recently unveiled as the winning entry in the Medal Design Contest which sought locally created designs which reflect the unique nature, theme, culture and sprit of the Games in Swift Current.
His design is entitled "The Ru'ach of Swift Current", and it ties into many Southwest features and themes into the medals.
"There is no better analogy for spirit than wind," Wiebe explained in a press release. "The Hebrew language actually uses its word for wind as its word for spirit — "ru'ach" (roo-ahck). Swift Current is known for its wind–from jaw-dropping waves seen in a sea of wheat, to our annual Windscape Kite Festival. What better way to show case Swift Current's generous spirit than with a strong gust of ru'ach?"
The design sees Swift Current's ru'ach (wind/spirit) animating the Western Canada Summer Games logo to life.
"In the same way, many workers and volunteers have spent over a year bringing the summer games to life, the athletes put their heart and soul into their training and performance and spectators bring an electric energy to each individual event," said Wiebe.
At the bottom of the medal, an abstracted field of wheat acts as the foundation for the design, just as the Southwest agriculture industry plays a crucial foundational role in our community. The maple leaf represents a diversity of Canadians coming together with a unified purpose and being open to receiving Swift Current's ru'ach.
"Our community will give life and receive life back through the Western Canada Summer Games, all from the offering of our ru'ach," proclaimed Wiebe.
The official Games medals are an important and iconic component to the excitement surrounding the Games. As the winner of the Medal Design Contest, Wiebe will be presented with a framed set of the finished medals.
The Western Canada Summer Games take place in Swift Current and surrounding areas from August 9 to 18. Approximately 1,700 athletes and coaches will be participating in 16 different sports. For more information on the Games, or to volunteer, visit www.2019wcsg.ca.