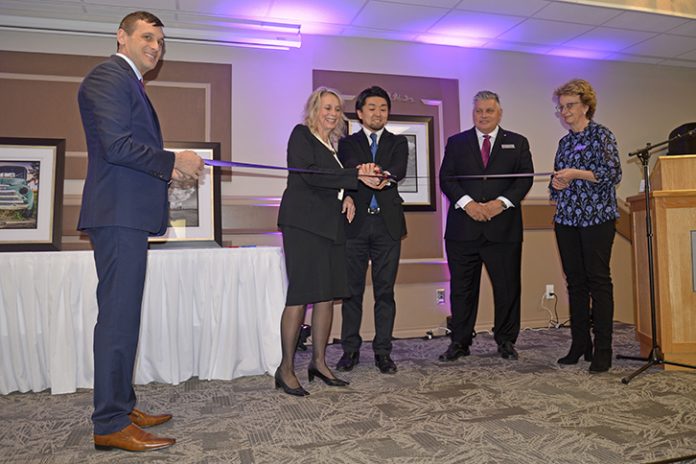 The first Coast Hotels property in Saskatchewan was officially christened on January 7 when a grand opening celebration was held for Coast Swift Current Hotel.
Formerly operated as the Days Inn, and originally as the Horseshoe Lodge, the Coast Swift Current Hotel will continue the legacy of longtime owner/operator Bill Thacker. Bill Thacker's children Patti Rogers, Terry Prefontaine, Bert Thacker and Bob Thacker were all in attendance at the grand opening and are involved as franchise partners.
Thacker owned the York Hotel from 1973 to 1975 before purchasing the Horseshoe Lodge. He operated the location as the Horseshoe Lodge until 1998 when he completed an extensive renovation and became part of the Days Inn chain. He passed away in January 2017 at the age of 81.
Patti Rogers gave a nod to his continuing legacy during the grand opening.
"This property has been part of our family and an integral part of Swift Current for more than 45 years. Our dad, Bill Thacker, was very innovative and he was a visionary, and we learned from the best," she said. "Today, we are proud to kick off our refreshingly local brand, the new Coast Swift Current Hotel."
Takamasa Machiura, Executive Vice President of Coast Hotels, noted Coast Hotels is a long standing brand with more than 45 years of history on the West Coast of Canada and the US, with a total of 37 owned, managed and franchised properties. The West Coast based chain features Canadian properties in British Columbia (18), Alberta (4), and one location in the Yukon, with Swift Current being their first venture into Saskatchewan and their furthest east location. In the United States they have locations in Washington (5), California (3) and one in Oregon, Hawaii and Alaska.
"I want to thank Patti Rogers and her family for their confidence and the trust in us in choosing Coast Hotels, and putting the Coast Hotels flag on this property," Machiura said.
"We are delighted to welcome Coast Swift Current Hotels as our newest franchise partners and as our first hotel in Saskatchewan to our Coast Hotel family. We look forward to being part of this community for years to come."
Rogers explained that Coast Hotels has allowed them to remain a distinctly Swift Current and Southwest location.
"The thing that drew us to Coast Hotel was their appreciation for local flavour and for proudly showcasing the uniqueness of each community they belong to. This is not your typical, cookie cutter, hotel brand."
They are proudly installing Swift Current and Southwest images and artwork in the halls of the property and in guest rooms to highlight the uniqueness of the region.
"That's what refreshingly local is all about, embracing your surroundings and showcasing them through your hospitality. The Coast brand lets us be Saskatchewan, and it lets us be Swift Current. And that we couldn't be more proud of. And I know our dad would be proud of that as well."
She noted customers are looking for genuine, authentic and unique hotels instead of run of the mill locations.
"My siblings and I we just couldn't be more proud of where we are today, and we know our dad would be so right behind us, especially the part about we get to be Swift Current."
Coast Swift Current Hotel will continue to be a conference facility, with various meeting rooms and a ballroom with full banquet and catering options. They have already completed some ballroom upgrades and some final renovation touch ups around the property will be completed in the coming weeks.
This spring they plan to develop their courtyard, which will have the ability to host wedding events, as well as be a sheltered outdoor patio area for Smileys Bar and Grill customers.
A digital message board will be installed next month, which they will use for a variety of purposes as well as sharing safety messages.