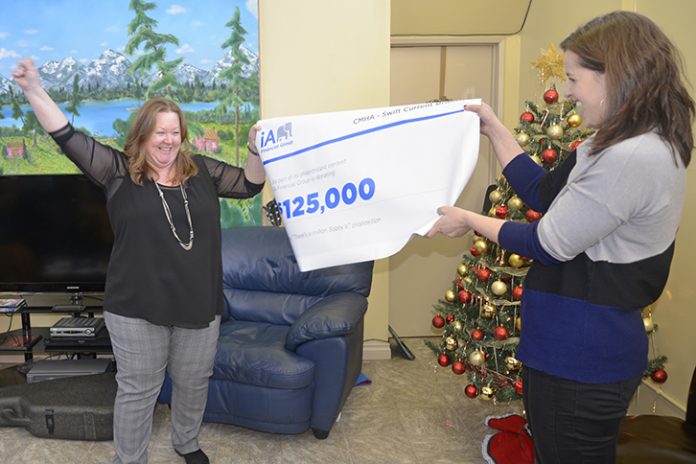 The Swift Current Branch of the Canadian Mental Health Association has won top prize in the iA Financial Group's second annual Canada-wide philanthropic contest.
In a surprise unveiling on Tuesday afternoon, iA Financial Group presented the grand prize cheque for $125,000 to a group of shocked CMHA staff and members.
"That's incredible," Jacqui Williams, Executive Director of CMHA Swift Current said shortly after the cheque presentation. "I still can't believe we're first. We're very lucky."
"I never imagined we'd get in the top 10. Like I never imagined that in a national competition a little place like us would even be recognized."
Swift Current came out on top of the national on-line voting competition after having made the short list and a guaranteed $10,000 from iA Financial Group.
Catherine Tardif, Philanthropy Advisor for iA Financial Group, said the company's second annual philanthropic contest allows them to help out a series of deserving programs. In addition to the $125,000 grand prize, a pair of $50,000 runner-up prizes and six contributions of $10,000 were given to all the other short list finalists. In another surprise announcements, the iA Financial Group staff voted on their most inspiring project and a $25,000 donation was made to the Quebec City charity Communautés solidaires.
One portion of the prize win will allow the Swift Current CMHA to hire an additional individual to expand their staff from their current two and a half employees.
"One of the things that we've noticed is we really want to go outside of regular business hours, because we want to get people earlier in their illness. When people are being first diagnosed they're very young, and it's a very frightening diagnosis. So to get them when they're young, to get them when they're probably still employed, they're probably still going to school. They can't come in here Monday to Friday and just hang out and get to see people who are doing really well and who are healthy," Williams explained.
"It puts them in a position where the service is available but it's not available to them. So really the focus now needs to be on giving the service a little bit."
She is hoping the Swift Current Branch will now have some evening and weekend programs and services.
A larger portion of the funds will be utilized in helping find a new home after outgrowing their current facility.
Earlier this year the Durward Seafoot Estate donated the funds to purchase a new van for the CMHA. The Estate also made a $400,000 contribution towards a new building to replace their current facility. This has kickstarted a long talked about new building campaign, and they are taking aim as having a new facility by 2020. They are hoping to double their current size and stay in the downtown area for the convenience of their members, but they still have to raise half of their estimated building costs.
"I'm kind of more confident now," she admitted. "Now I am feeling like we could make it by 2020, which would be fabulous."
Williams was also appreciative of the on-line voting support which propelled them into first place.
"I never underestimated Swift Current," she admitted. "Swift Current always steps up."