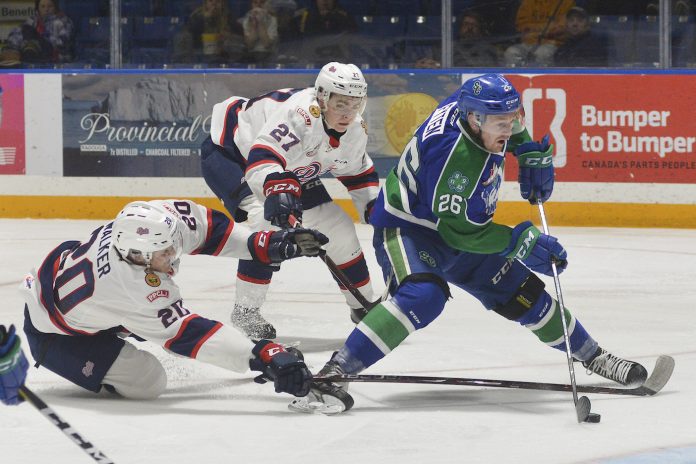 The Swift Current Broncos scored three unanswered goals to defeat the Regina Pats 4-3 to win for the first time in four attempts this season.
The Broncos trailed 3-2 after two periods before Joona Kiviniemi and Tanner Nagel scored to lift the Bronco to the victory.
The Broncos fell behind 2-0 in the first period. Scott Mahovlich knocked home a rebound for his fifth goal of the season and Brett Clayton scored 5:14 later to double the lead.
The Broncos scored twice in the second period to trail 3-2. Andrew Fyten opened the scoring for the Broncos with a breakaway power play goal, his seventh of the season. The referee initially called no goal but replay changed the call to a goal. Riley Krane quickly replied for the Pats, but Fyten notched another goal to cut the lead in half for a second time.
Kiviniemi got behind the Pats defense 11:18 into the third period and lifted a puck over the short side shoulder of Max Paddock. Nagel scored the game winner with 3:16 left on the clock when he beat Paddock with a high wrist shot on the rush.
Joel Hofer made 36 saves to improve to to 4-17-1-1. Max Paddock fell to 6-14-0-1 with 33 saves on 37 shots.
The Broncos improved to 6-23-1-1 with their second straight home win, while Regina dropped to 8-23-0-1.
The Broncos will host the Prince Albert Raiders on Friday.