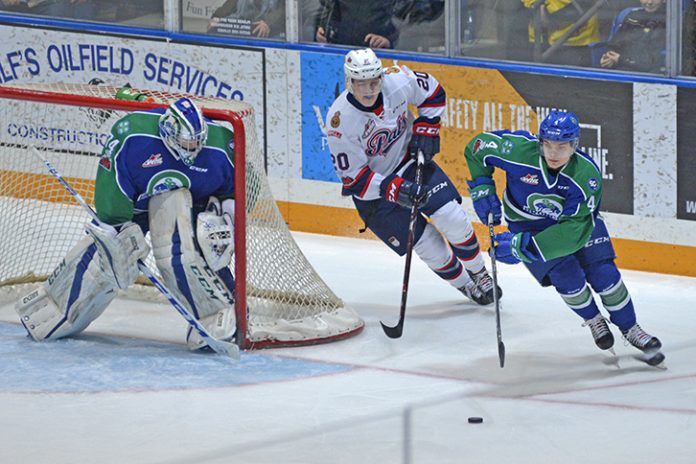 The Swift Current Broncos have traded former first round draft pick Jacson Alexander to the Edmonton Oil Kings as part of a four player and three draft pick transaction.
The Broncos dealt the highly regarded 2001-born rearguard who was taken 17th overall in the 2016 WHL Bantam Draft, along with 2016 drafted defenceman Chad Smithson, plus a sixth round pick in the 2019 draft to Alberta's capital.
In return the Broncos receive 2001-born forward Matthew Culling, 2002-born defenceman Chase Lacombe, plus a second round pick in the 2020 WHL Bantam Draft and a sixth round pick in the 2019 draft.
Culling finished sixth in scoring in the Saskatchewan Midget AAA Hockey League with the Regina Pat Canadians this past season, counting 25 goals and 62 points in 43 games. The Regina product was originally selected by Edmonton in the 10th round (203rd overall) in the 2016 draft.
Lacombe played his rookie season with his hometown Moose Jaw Warriors in the Saskatchewan Midget AAA Hockey League this past year, counting a single goal and one assist along with 14 penalty minutes in 42 games. He was selected by the Oil Kings in the fifth round (101st overall) in the 2017 draft.
Alexander was a member of the Broncos WHL championship run when he stepped into the line-up following the Christmas break. The developing blue liner had one goal and five points along with a +7 plus/minus rating during the regular season, and in the post season he added a single assist during 26 playoff games.
Also headed to Edmonton is Smithson, a 2016 seventh round draft pick (136th overall). He played on the blueline with the Winnipeg Thrashers in the Manitoba Midget AAA league, scoring six goals and 13 points in 41 games.
In order to make a run at the 2018 WHL Championship, the Broncos retained only a single first rounder, with defenceman Ben King (13th overall, 2017 first round) being the lone opening round selection remaining in Swift Current. They also dealt their first round picks for 2018, 2019 and 2020. This past season they traded Joel Sexsmith (2017 first round, 9th overall), they traded their two 2016 first round picks, Logan Barlage (fourth overall), Alexander (17th overall); their 2015 first rounder Riley Stotts (10th overall), along with their 2014 first round pick Dominic Schliemann (12 overall).
A recap of those trades is as follows:
January 9, 2018
Lethbridge acquires: Logan Barlage, Owen Blocker, Matthew Stanley, first round pick in 2020, third round pick in 2020, a conditional second round pick in 2021.
Broncos acquire: Giorgio Estephan, Stuart Skinner, Tanner Nagel.
January 7, 2018
Broncos acquire: Josh Anderson
Prince George receives: first round pick in 2018, first round pick in 2019.
January 7, 2018
Broncos acquire: first round pick in 2019.
Vancouver acquires: Joel Sexsmith.
November 25, 2017
Calgary acquires: Conner Chaulk, Dom Schmiemann, Riley Stotts, Josh Prokop, Ethan Hein, second round pick in 2018.
Broncos acquire: Matteo Gennaro, Beck Malenstyn, fifth round pick in 2018.