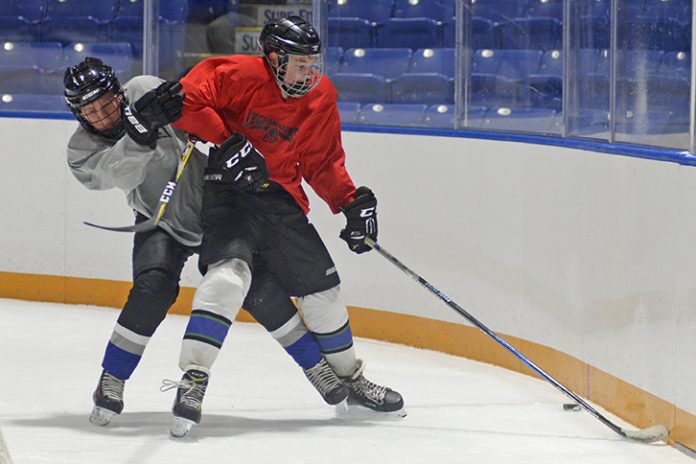 Swift Current Home Hardware Legionnaires Head Coach Darren Evjen is looking to take another step forward with the team this upcoming Saskatchewan Midget AAA Hockey League season.
Evjen, who is entering his third year as Head Coach, put the Legionnaires through a rigorous testing process during the team's fall camp on Aug. 17 to 19. The staff evaluated players from across the province, and have kept a group of 28 to 30 players who will now try to earn roster spots during a five-game exhibition schedule.
"As a group we were really happy with the group that came in here to play. We had a lot of good players, a lot of depth there," Evjen said following the weekend camp. "The kids really did everything that they could to make an impression. The fitness testing was good. Their practices were good. Their games were good. We had a lot of tough decision just to get to the point that we're down to 28."
Camp opened on Friday with registration and fitness testing. Players began both Saturday and Sunday with a dryland workout, followed by on-ice sessions. Prospects were split into four teams and had three scrimmage contests to showcase their talents.
He said the opening day fitness testing to kick off the camp was a chance for the players to make a positive first impression on the coaching staff.
"It shows right away how much care you have. If you're going to workout all summer, that means you really want to be here. And if you don't, that tells us you're maybe only going to put a toe in the water to play here. Where we are at, we want players that are fully committed to playing."
The Legionnaires enjoyed a 26-13-1-4 record and were fifth overall in the regular season standings last season. It was the second year of a building process after the team iced a young roster in the 2016-2017 season and placed 11th with a 14-30 record.
Evjen said they are building on that league showing, winning their first playoff series in well over a decade, and having a strong showing at the Mac's AAA Hockey Tournament.
The Legionnaires have graduated nine players from the 2017-18 team, but with a strong core of returning players, and some promising recruits, they are again hoping for a good season.
"We're going to go through the exhibition process and try to find the right guys that can play and make us better."
The team announced just before fall camp that Travis Moen will be joining the Legionnaires as an assistant coach this season.
"It was great for Travis to come and step up and say he wanted to help the organization and help with the players that we have," Evjen admitted. "We were fortunate last year Mark Lamb gave us a lot of help and guidance for those kids. This year Travis will definitely be an asset. He's just such a good guy. He's been through a lot as a player, so he can give a lot of good experience in conversations to our kids."
Moen joins Guy Jacobson and Andy Blanke as the assistant coaching trio, while Duane Doane will serve as Head Team Trainer for 2018-2019.
Swift Current starts the exhibition season on the road, taking on the Moose Jaw General on Thurs., Sept. 6. They follow up with a weekend test, traveling to visit the Saskatoon Contacts on Sat., Sept. 8, before making their home exhibition debut on Sun., Sept. 9 against Moose Jaw. The Legionnaires take to the ice against Team Sask. U-16 on Sat., Sept. 15 in Wilcox.
Swift Current wraps up their exhibition schedule at home, facing the Saskatoon Contacts on Sun., Sept. 16.
The Legionnaires start the regular season on the road, taking on the Beardys Blackhawks on Sat., Sept. 22 and the Prince Albert Mintos on Sun., Sept. 23. The Legionnaires do not make their regular season debut on home ice until Sat., Oct. 6 when they host Beardy's.