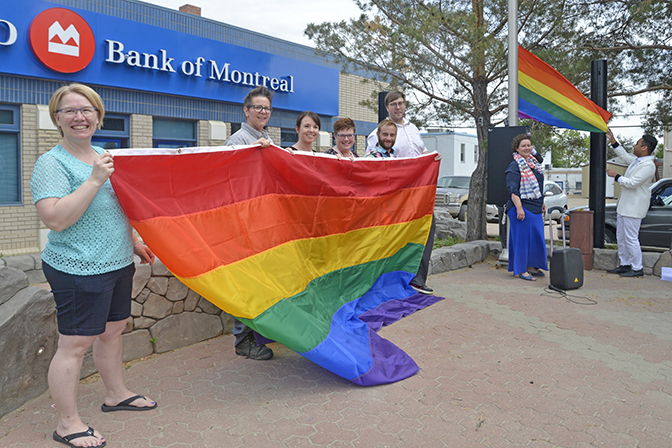 A busy week of Swift Current Pride Week 2018 activities were formally launched on Monday during a special flag raising at Market Square.
This year marks the second full week of Pride activities in Swift Current, and it comes on the heels of an overwhelmingly positive launch year in 2017.
"We have witnessed enormous positive change for the LGBTQ+ community in Swift Current, and the surrounding area, in the past year. And we have heard from countless LGBTQ people in our community that they could not believe the things that are happening in Swift Current," explained Southwest Saskatchewan PRIDE chair Andrea McCrimmon.
"It's really hard to overstate the stunningly positive cultural shift that has occurred in our community over the last year."
She saluted the partnership with the City of Swift Current which has helped their efforts to build a welcoming and inclusive community for LGBTQ+ individuals.
"Swift Current has shown great leadership when it comes to creating a safe and caring community. The City's Safe Places initiative works to make our community safer for children and youth. And with their partnership on Saskatchewan's first permanent Rainbow Crosswalk, Mayor Perrault and the City of Swift Current have demonstrated their commitment to our city being a diverse, inclusive and safe place for everyone, including LGBTQ people."
"I believe that together we are making Swift Current and Southwest Saskatchewan a safer and more inclusive community. And I'm extremely proud of what our community has accomplished in the last year."
The City of Swift Current also lent their support by proclaiming June 3 to 9 as Swift Current Pride Week.
"We as a City, we strive to be a safe and caring community. And a big part of that means inclusiveness. I think for any of us here, all we want for our children and our children's children is to be accepted, to be useful, and to be a part of our community. And for us, this is a way that we can help with that," Mayor Denis Perrault said during Monday's flag raising.
"It's something that definitely welcomed by our community," he added. "I'm very proud of our Council and our administration at the City that in my opinion have been real leaders."
"Often times when we as mayors are asked to do different things, our first question is 'what are the other communities doing?' I'm very proud to say that here in the City we ultimately have been leaders in the things that started last year."
Perrault recalled when former Lieutenant Governor of Saskatchewan Vaughn Solomon Schofield joined the community in proclaiming the inaugural PRIDE Week in Swift Current, she had commented that it was a brave effort to step forward as a community to do that.
"I didn't feel it as brave, I just felt it was the right time. It's very timely because we as a community, we strive to be safe and caring. Those are two words we use a lot. They're part of our pillars. But also for me it's to be inclusive. I want people to feel welcomed in Swift Current, regardless of anything."
McCrimmon said their efforts to hold events again this year were driven by their successful beginnings last year.
"I think before last year there really wasn't much discussion about LGBTQ people, and I feel like it was a really hidden community, and a really silent community. And last year just changed everything. We were not expecting to have 1,000 people come out to our PRIDE BBQ. And people were just overjoyed and happy about the Rainbow Crosswalk, and that Swift Current was having so many wonderful LGBTQ positive events."
"People just kept remarking that they can't believe this is happening in Swift Current. Whether you're gay, straight, trans, or anything, I think people were just breathing a huge sigh of relief and just feeling a lot of joy about the fact that things had really changed."