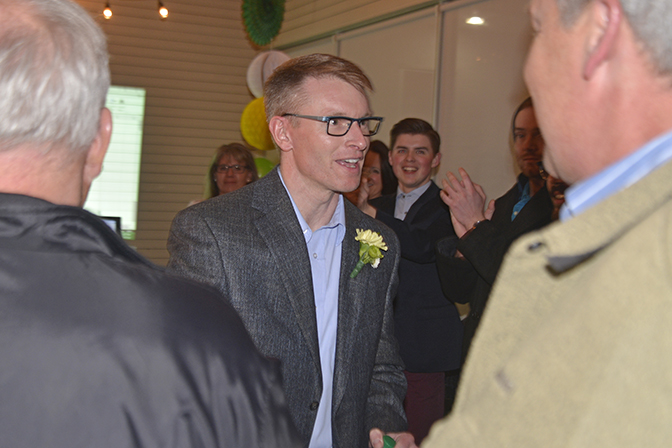 Everett Hindley posted a sizeable by-election win in the Swift Current Constituency on Thursday night to earn the opportunity to serve as the next Member of the Legislative Assembly for Swift Current.
Hindley received 3,776 votes, or 73.4 per cent of the ballots cast to outpace his nearest competitor in NDP candidate Stefan Rumpel who placed second with 1,243 votes or 24.2 per cent of the ballot. Maria Lewans from the Saskatchewan Green Party placed a distant third with 67 votes, and Saskatchewan Liberal Party candidate Aidan Roy garnered just 49 votes. The election totals of 5,146 represent 42.12 per cent of the 12,218 registered voters in the constituency.
It was a by-election clean sweep for the SaskParty on Thursday night, as Todd Goudy of the SaskParty won the Melfort seat, and SaskParty candidate Ken Francis ran away with the Kindersley by-election.
The Saskatchewan Party has now captured the Swift Current Constituency in six straight elections, with previous MLA Brad Wall earning the past five election wins in Swift Current (1999, 2003, 2007, 2011, and 2016).
Hindley said the by-election win was clearly an endorsement of the direction of the Saskatchewan Party.
"Folks had a choice to make here in terms of direction. We've had a change in leadership at the party level. The same thing is happening with the opposition right now. So we went to the doorsteps asking people what they thought about the state of politics and the state of Saskatchewan and where we're going from here. And by in large, based on the results we're seeing tonight…for the most part folks are pretty satisfied with the direction that the Saskatchewan Party government is taking, and they want us to continue on that path."
Hindley will now prepare to join the government side of the legislature when the spring sitting beings on Monday, March 12.
"I think I'm just looking to get as involved as I can here in Swift Current," he said. "One of the challenges of having the Premier as the MLA here for the last 10 years is that person's ability to be a directly involved in things, perhaps isn't as much as it was before."
He noted that during that time he assisted in advocating for infrastructure needs like a new joint-use school, construction of a long term care facility, adding new group homes, and making highway investments. However, strengthening services is a continued need for the community.
"One of the things that I heard on the doorsteps is we need to focus on the people. The ones who are working in the public service, and the ones that the government services. So I think I want to champion that and be somebody that can be open, accessible, to people here in this constituency and take their concerns forward as best that I can and try to represent them to the best of my ability."
Hindley, who served as an assistant to Brad Wall for the past 18 years, admitted it was different to see the election results with his own name on the ballot.
"I don't know if its completely sunk in yet. It might take a little bit for that," Hindley admitted.
"It's something I don't think I ever imagined," he added. "For it to actually happen tonight was pretty exciting."
Hindley won the by-election with 73.4 per cent of the popular vote, down from the 82.4 per cent margin Brad Wall had during his final election campaign in 2016.
"I think that speaks a bit to a couple of things. One, typically I think you see that voter turnout is a little bit lower in by-elections. I don't know what our numbers are here, but that's always something we struggle against – you don't have the constant publicity of a full blown provincial election where you've got leaders going around the province, unveiling a platform plank by plank – and it's top story in the news every day for 28 days. So it's less in the public eye.
"The things and the issues that I heard on the doorstop I think that's a little bit reflective in the result as well."
Admittedly, the lessons learned on the doorstep gives him an important message to carry to Regina.
"I just think that we've heard that you can never consult enough. It's always important to talk to people. And that's something that I think has been a strength of mine in my 18 years of working in provincial politics. And I plan to continue that going forward."
While the Saskatchewan NDP dropped all three by-election races on Thursday, the closest campaign race occurred in Swift Current.
Rumpel received 24 per cent of the popular vote, improving the NDP showing in the Swift Current from the previous three elections (15 per cent in 2016, 16.5 per cent in 2011 and 23.4 per cent in 2007).
"I think it was great that we were able to push it forward like that, and we were able to move it up," Rumpel said. "The fact that in what could be considered one of the toughest seats in the province – if you think 18 years of one party and you think the Premier sitting here – that we were able to move that far in one moment, I think speaks volumes."
Rumpel said it was a grueling campaign because of his long hours spent door knocking and being on the campaign trail.
"It's obviously a lot of emotions at once," a fatigued Rumpel admitted. "But that group in that room, any disappointment I might have been feeling in this moment, it's just washed. They're amazing people."
"As we continue forward, that it'll just continue to grow. The momentum from this campaign, I can't see it stopping any time soon because we need those voices to be heard. And there have been enough people that feel like their voice has kind of been lost in the last years, that it'll just keep growing. And we'll see what comes in maybe a year and a half."
He felt the NDP support was dampened because of misinformation and fear regarding his position on the Carbon Tax.
"It's unfortunate that not enough people maybe took the time to listen to what I had tried to say to folks, which is that I don't want to see cost of living rise for people in our communities either. I think that the realities of Saskatchewan change what needs to happen. But I still am. I'm honestly worried that we're not doing enough to protect people. That there's more work to be done. If we sit at the table and we activate those experts, and we create a made in Saskatchewan solution that doesn't have to be a tax. There's multiple options out there that we could get Ottawa to sign off on. That does the real work to protect people. And I hope that that maybe has been heard. I hope that continues on, so that we can access some of that funding that's coming from the federal government and we can really ensure we protect our farmers and we protect our family and friends and our communities."
He hoped the election results sent a message to the SaskParty government that they should endeavour to listen more to the electorate, and he was pleased to have pushed concerns regarding education and healthcare cuts to the forefront. He argued those cuts from healthcare and education does not save money, but rather offloads debt onto vulnerable people and on our children's future.
"Moving forward the biggest push is that we need to understand that those decisions just can create more problems down stream. We need to be looking forward. We need to be planning 10 years into the future, 15 years into the future. Because I'm really concerned that with recent decisions we're going to see some negative impacts in five years, in 10 years, beyond what we're seeing right now."
"So I'm hoping that what I've done here sends that message loud and clear, because if it doesn't then they're going to have to be really worried next time around," Rumple said while signalling his intention to run again in the 2020 general election.
"I definitely plan to be back. I didn't go into this to go in half-heartedly. I didn't take a leave and have my students be without me to not continue on. It's for them. It's for my family. It's for my community. That if I were to back down after all this momentum has been built, and after all of this faith in who I am, that would be a huge disservice to this community, and I definitely will not be doing that. I will be moving forward and we'll be building. We'll be working every day to the next election, because that's the only way you push the conversation forward."
"I think each conversation is a step in the right direction. And I think that with these people behind me, the people in this room who are so amazing and so passionate, we'll just keep going, we'll just keep building, and it's going to be great."