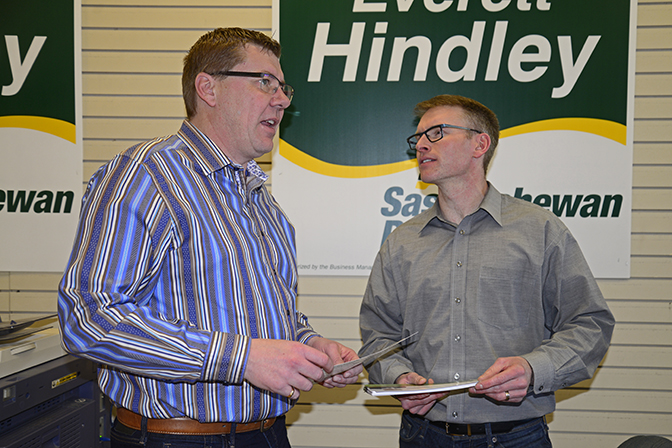 Saskatchewan Premier Scott Moe has followed up on a leadership campaign promise and has announced additional educational funding.
During a stop in Swift Current on Tuesday, Moe explained the importance of the $7.5 million which was provided to school divisions across the province to assist in dealing with front line pressures.
"It is an investment in our next generation. It truly is," Moe explained during an interview. "It's an investment in those primary grades to ensure that those children, our children, our students, have every opportunity to ensure they're at grade level as they enter their upper years. To ensure that they have every opportunity to succeed in graduating on time if possible. And have every opportunity to succeed in whatever career they may choose."
"And our other focus is an economic focus here in the province is to provide them with the opportunity for a career in a community in the great province of Saskatchewan."
The Chinook School Division will be receiving $296,800 in funding, the tenth highest total among the 28 School Divisions receiving funds. The Holy Trinity Roman Catholic Separate School Division has been pegged to receive $87,000, the ninth lowest amount handed out.
The funds were allocated according to 2017-2018 school year data, and the mid-school year funding is intended to immediately hire education professionals.
In announcing the funding, Moe noted he intends to follow through with a total of $30 million in order to hire 400 in-school education professionals and other school board priorities as part of the upcoming 2018-2019 budget.
"Over the last several months, I have heard from parents and educators that additional funding is essential to ensure that our children receive the highest quality education possible," Moe stated in a press release. "This $7.5 million in immediate funding will put essential classroom supports in place before we introduce the full amount of $30 million in the 2018-19 budget."
Moe was speaking during a stop at Saskatchewan Party candidate Everett Hindley's Swift Current campaign office on Tuesday afternoon in support of his by-election campaign.
"I know he's got a very very busy schedule so it means a lot to have the Premier take time out of his busy schedule to come here in Swift Current for a few hours," Hindley said.
"Whenever you get a call saying that the Premier's coming to visit your campaign, you always accept those invitations," he laughed.
Hindley noted that the additional educational funding is important across the province.
"This is a welcome announcement today. It's mid-year funding. The Premier had also made an additional commitment during his leadership run for some funding there. So I'm sure that he's working with his cabinet on that for the upcoming budget," he said.
Hindley admitted the topic of education has been a frequent conversation both during his SaskParty nomination campaign and the early days of door knocking in the by-election campaign.
"Today's announcement is good. It shows that there is a commitment from our government and from our party to take a look at that issue, that we have been listening to folks on the doorstep, and we're taking steps to try to address that."