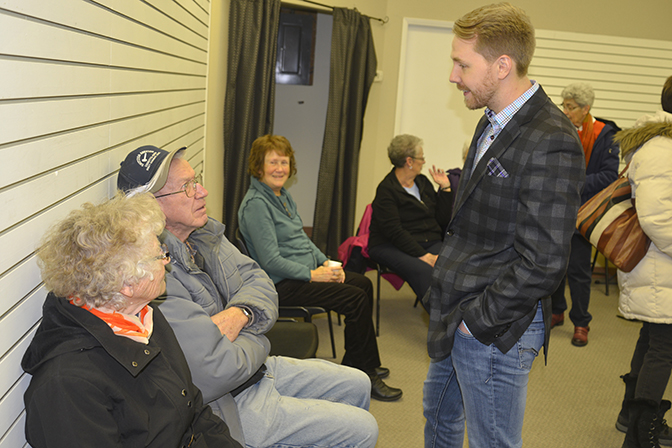 Saskatchewan NDP candidate Stefan Rumpel was off to an upbeat start on Friday when the Swift Current by-election race kicked off.
Rumpel was joined by a number of supporters during an informal meet-and-greet at his Swift Current Mall Campaign Office just hours after the formal announcement of the by-election date of March 1.
"There's excitement, energy. It's good," Rumpel said hours into the campaign this past Friday.
Rumpel earned the NDP nomination only on January 28, but he already has numerous things in place despite there being a quick transition from his nomination win to the start of the by-election campaign.
"When I set in for nomination – I don't like to lose. I'm not going to shy away from that. So if I was going in, and I decided I was being nominated, I was already working 'ok, what happens if I am the candidate' already putting things in place.
"So then when I did win, and was so happy to have the NDP members support me in that, then it was easy. I already had a lot of people in place ready to hit the ground. So we already have a lot of key players ready to make this campaign reach out and really put some questions into the community that maybe haven't been asked, that need to be for some of those people who feel like they haven't necessarily been listened to."
While he will be unveiling a policy statement during the course of the campaign, Rumpel's day one message was asking does it make sense to pay more for less?
"You have to ask yourself, the current government likes to make decisions that I don't necessarily think they consider the ramifications for everyone. It's great to promote business and the resource sector and all of those pieces, but at the end of the day if those decisions are taking away from education, or healthcare, or what young families have to spend in a community, that's a problem to me. And that needs to be brought up. They need to be pushed on those issues."
"And that's why I want to be in there. I want to be able to stand up and say there are people who are being left out that need to be spoken for."
"When we have a province that I think has the potential to be the greatest in Canada – if we get our resources going, if we diversity our economy into some of the newer areas that are jumping up in technology and renewables, and all of those pieces, which we can do because we have amazing, talented people here – then everybody will benefit."
"And the way you start that is you make sure your people are taken care of, in my opinion. You start at the base. If your families, your young professionals, your community members, feel like living here, they're supported, that they are financially stable. There's no worry of how am I going to pay the bills next month. Those people then can thrive. And they can jump into that work force and become a big contributor."
Rumpel's campaign began door knocking on the campaign's first day, providing the candidate with a key chance to hear from voters on the doorstep.
"I'm excited to just go listen to people. I can speak all I want about what I believe, but in the end, being MLA for Swift Current means listening to the people who live here. So when I go to someone's door, I don't want to walk up and say 'I'm Stefan Rumpel. This is why you should vote for me.' I want to walk up and say 'What are you feeling in this community? What are your issues that you're facing? How can I represent you and be your voice?' That's important to me. And that's a conversation that I'm not going to stop if I'm elected. I am going to continue meeting with people and finding out what are the issues that matter to this community."
And while the Saskatchewan NDP are still in the midst of a leadership campaign to select a new leader, Rumpel does not feel this puts his local campaign at a disadvantage.
"I think it's good in that you have a competition, and you have ideas that are pushing people. So whenever you have any democratic process, whether it be a race like this or whether you have a leadership race, the ideas that are being presented challenge each other and force you to think better, force you to think bigger. And when you're forced to think bigger like that, when we're having these conversations with people, and they're saying 'well, what do you believe?' Well the NDP, we have our core set of values, but we can also point to 'well our leadership candidates are talking about this a lot, how do you feel about that?' And then if that resonates with people, good policy is good policy, no matter who brings it forward."
"So I think in this case it's a positive because it's pushing conversations, it's opening up people to thinking about new and different ideas."