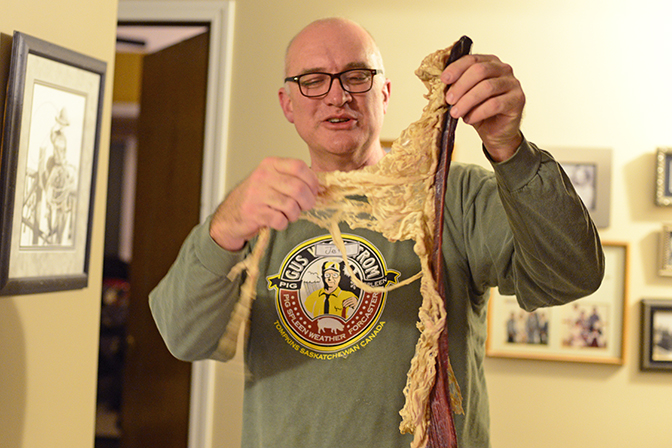 The pig spleens have spoken!
A group of 30 family and friends gathered on a -30 night on December 29 in hopes of some warm weather news during the 11th annual Pig Spleen Forecast Party.
Unfortunately, the pig spleen forecast unveiling by Jeff Woodward did not predict much of a warming trend during the coming year.
"So the forecast in general is below average temperatures, and probably a little bit above average precipitation," Woodward said while unveiling a portion of his 2018 forecast.
"Most of the cold weather will be below average sort of from January, February, half March, and then it's more sort of fluctuating above and below after that. June is probably an average month, but there's not much precipitation in June showing up on the spleen. So a little bit at the very start of June, but after that very dry. Which was sort of similar to this year, I think, where we had an exceptionally dry summer. It seems like we're sort of getting set up for that same kind of thing."
"Obviously, January starts off cold. But a rise in temperature at the very start of January. Still probably normal to a little bit below normal. A couple of days where we're going to get above average, and then back down to below average for probably until the end of January," he said, adding there could be a good dump of snow somewhere between January 18 to 22.
"In February, there's one period in the middle where the temperature's going to pop up again to above average or near above average. But it's going to be fairly cold until the very end of the month when we're going to pop up for a little bit longer."
Woodward has been carrying on the tradition of his late uncle Gus Wickstrom, who had gained North America wide recognition for his forecasts. He appeared on The Daily Show, This Hour Has 22 Minutes, along with numerous other televised and printed interviews.
Friday's unveiling party also doubled as a family reunion and celebration of this unique long-held European tradition. Farmers in Europe would harvest their pigs in the fall, and they would look at the spleen with the belief that the pig had some ability to prepare for the kind of winter it was going to be. Both his grandfather and uncle Gus started making the predictions, in a light hearted way.
"He was very successful in doing it," he said of his uncle Gus. "One year he predicted a snowfall in June. And everybody said he was nuts. And he predicted it six months in advance, and it happened almost to the day that he predicted it. I think that started off his fame in pig spleen prediction."
The tradition involves looking at the texture, the width, and the fat on the spleen.
"The fat basically tells you what the temperature and the precipitation is going to be like for the winter. And then the texture of the spleen tells you about any anomalies."
This year's spleens are from pigs from the Hazlet area, so the resulting forecast is only for the geographic area of the Southwest.
"It should be good for about a 200 mile, 300 kilometre, radius around Hazlet, which is really hard to do because Southwest Saskatchewan – the weather is so different than the rest of Saskatchewan in general. And Environment Canada does a terrible job of predicting the weather down here. So this is a little bit unique."
"Precipitation is mostly I would say a little bit in January, enough to keep the snow on the ground. Then the end of February the beginning of March, we're going to have probably the most precipitation. That whole period from March and April mostly, I think we're going to have above average rainfall and snowfall."
And while some people rely on a variety of forecast and an edge when making seeding decisions, Woodward notes that most producers are simply taking advantage of any seeding window of opportunity early in the growing season.
"I think in general, people try to get the seed in the ground as early as possible. Right now, it looks like again, as soon as the temperatures are good enough, then they should be out there trying to get the seed in. If we're setting up for a dry summer, then we want to take advantage of that winter and spring moisture for sure."
He is still making his final analysis, but Woodward said generally during April and May the Southwest will see colder than average temperatures, five to 10 degrees lower than average.
"Really a cool spring. And then June, more average. But the first part of June with a little bit of precipitation, but then dry after that."
"The spleen doesn't go much farther past June, but I think we can expect another sort of wet spring and really dry summer."
He did admit that with the notoriety of the forecasts, his annual prognostication is followed closely.
"There's some scrutiny it's put under every year for sure," he chuckled. "Some times it shifts one direction the other if I don't get the spleens lined up very good, but on average its been pretty good."
He is confident with his ability to read a pig spleen compared to Environment Canada's forecast models which utilize factors including El Nino, La Nina, Pacific Decadal Oscillation.
"They're very good at being able to tell you, in hindsight, what the weather was or what the indicators were showing at the time."
"(Environment Canada) Predictions in general, the three to five days – very good; when you get to five, six, seven days – they're usually sort of OK; seven to 10 – not very good; and then past 10 – there's just really no idea what the actual weather's going to be like."
"Computer models they do a good job with the short term stuff, but when you get into longer term stuff it's anybody's game."
Woodward's 2017 spleen forecast generally matched up pretty good with the actual weather.
"The general trends were I think well predicted…we're probably looking at 80 per cent kind of range."
The forecast was the highlight of an evening celebration surrounding the unveiling. The evening's entertainment was provided by relative Megan Nash. Her September album release Seeker reached the top of SaskMusic's Best Saskatchewan Albums of 2017.
Once completed, Woodward's full forecast will appear on the forecast website pigspleen.ca.