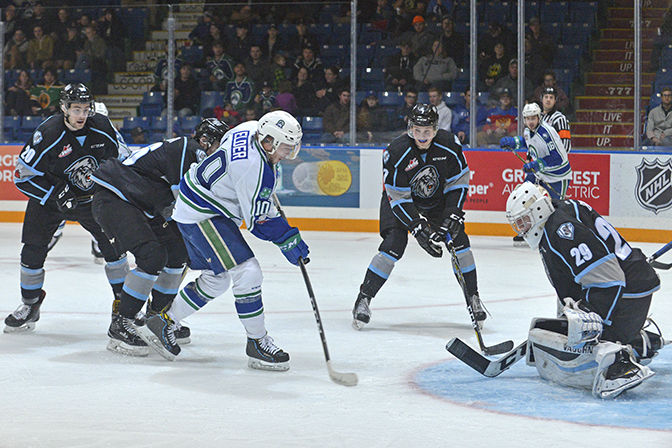 The Swift Current Broncos dug themselves out of a 2-0 first period deficit to count a 5-3 come-from-behind win over the visiting Kootenay Ice on Wednesday night.
Swift Current improved to 27-10-2-0 while ending a season worse three-game losing skid.
Matteo Gennaro scored the game winner with 6:09 left in regulation to count a three point game as the Broncos completed the come back after falling behind 2-0 after 4:45 of play. Gennaro now has a pair of game winners with Swift Current, counting eight goals and 22 points in 14 games since joining the Broncos.
Kaden Elder put the game out of reach with an empty net marker with 1:59 left in the period. Elder scored his eighth and ninth goals of the season, becoming the fourth Bronco player to enjoy a two goal performance, joining Glenn Gawdin (9), Tyler Steenbergen (8 two goal and three four goal) and Aleksi Heponiemi (1) as multiple goal scorers this season.
Swift Current got on the scoreboard to end the first period in a 2-1 hole after a shorthanded marker from Sahvan Khaira. The Broncos took their first lead of the game 1:40 into the third period when Max Patterson scored his fifth of the season, and first against his former club.
Kootenay got off to a quick start, with Brad Ginnell and Alec Baer scoring 3:26 apart early in the opening frame. They tied the game at 3-3 at the 10:54 mark of the third when Cameron Hausinger scored.
Bronco overage goaltender Logan Flodell improved to 23-8-2-0 after turning aside 30 of 33 shots.
Kootenay net minder Bailey Brkin dropped to 7-11-2-0 after yielding four goals on 40 shots in 57:24 of play.
The loss drops Kootenay a game below .500 at 18-19-3-0.
Swift Current now gears up for a three-game in three-night test, traveling to Brandon on Friday, before returning home for a Saturday game against Regina and a Sunday contest versus Red Deer.