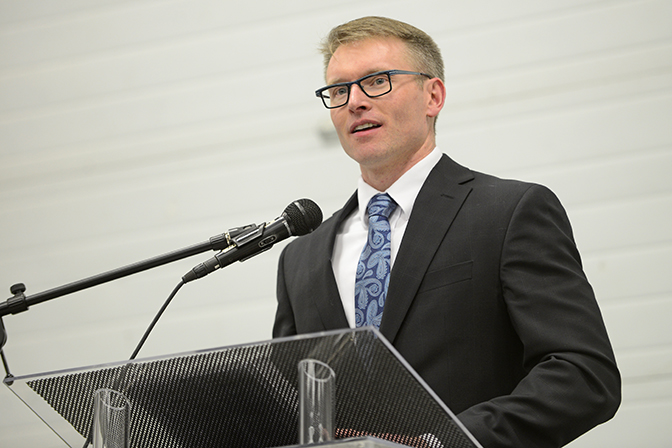 Everett Hindley has won the Saskatchewan Party nomination in the Swift Current Constituency and will represent the party in a by-election in early 2018.
Hindley won the nomination over Derek Robinson during a nomination meeting held in front of a standing room only crowd at the Palliser Pavillion on Monday night.
"I'm just so thankful that the members of the Saskatchewan Party in Swift Current have decided to put their trust in me as their candidate for the party in the upcoming by-election and in the next provincial election," Hindley told the assembled crowd at the December 11 nomination meeting.
"Derek was a fantastic candidate to run against," Hindley added. "Derek was here campaigning every weekend. I know he was selling membership and he was talking to you folks. And it's so encouraging because just look at the crowd we have here for the Saskatchewan Party. We have so much life in this party, and great ideas."
Swift Current MLA and Premier Brad Wall will complete his tenure as Premier on January 27 when the Saskatchewan Party selects a new leader at a leadership convention in Saskatoon. A by-election will be called in early 2018 following Wall's retirement from provincial politics.
Hindley reflected the past nomination campaign was a busy one.
"Honestly, its been a busy two and a half months of campaigning," Hindley said, noting the hours spent door knocking, dropping off brochures and phoning people.
Hindley, who has served as both Constituency Assistant and Executive Assistant for Premier Brad Wall dating back to 1999, will shift his focus to the by-election over the coming weeks.
He said the opportunity to hear directly from community members during the nomination campaign provided him with a glimpse of the main issues which are sure to be raised during the by-election.
"I remember talking to a couple of folks who were concerned about the recent budget decision to add the PST onto insurance premiums," he said, adding there were also concerns raised by teachers in the community.
"So I did talk to a handful of teachers about supports in the classrooms and growing class sizes and how we are going to address that."
He had a chance to see first hand the improving economic signs which are starting up after a period of prolonged depressed commodity prices in the energy sector.
"I think there's a sense of cautious optimism when it comes to the economy here," he said. "It's not what we may have seen back when oil was $100 a barrel. So there's some optimism in the economy, I think. But that being said, the folks in this community want to make sure that the government supports that."
There was an estimated crowd of 500 people at Monday's meeting, and 402 votes were cast during the evening.