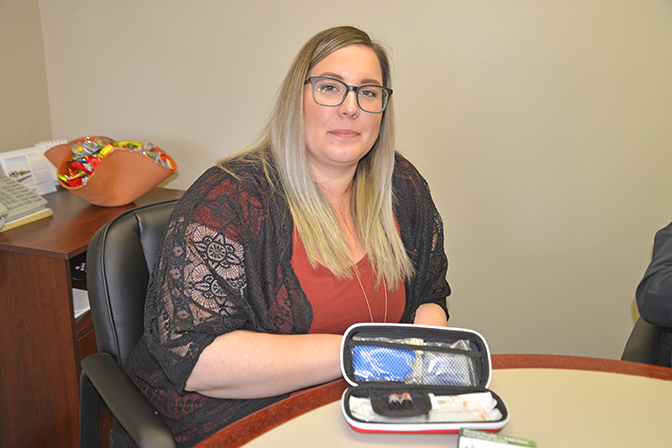 A provincial wide roll out of the Take-Home Naloxone program is now available in the Southwest, with the Cypress Health Region unveiling their local strategy this past week.
Effective today (November 28), Take Home Naloxone kits will be provided free of charge to benefit individuals at risk of an opioid overdose. The kits will also be provided to family members or friends who may witness an overdose and would be in a position to assist.
Amanda Maxner, a Centralized Intake Worker with Mental Health and Addiction Services at the Cypress Health Region, noted the kits aim to save lives.
"It's important because we have people who are using opioids and are at risk of an overdose. So what this kit can do is reverse the effects of that overdose, even for a short period of time, for them to be able to receive the emergency services that they need," Maxner said while unveiling the kits.
Naloxone provides a temporary antidote to drugs such as fentanyl, morphine, heroin, methadone or oxycodone.
The arrival of the kits in the region also raises the alarm of the prevalence of opioids across the entire Southwest.
"You wouldn't think there would be a whole lot here, and a lot of people maybe want to not think that it's here, but it is. And the age range of people using these drugs is a lot more than people would like to think it is. We've got teens using, we've got pre-teens using, we've got everybody up until end of life using these medications, these street drugs, illicit drugs. So if we can keep them safe for whenever that point comes that they are ready in that action phase to make a change, that we're here and available to them," Maxner said.
In order for anyone to receive a free Naloxone kit, they must first complete a brief education course.
"They have to have the education before they get the kit. So they have to complete the education and prove to me that they understand and absorbed the information that I gave them."
"They will learn, not only how to identify someone who's overdosing on opioids, but someone who's also overdosing on stimulants. So they'll be well versed at what the difference is between overdoses so they'll be able to recognize it."
"As well as I'll give them eduction on how to prevent the overdose. So things like using in groups, test doses… so not only giving them eduction on what the risk factors are for overdose, as well as how to identify overdose, but what to do when someone has overdosed. Putting them in the recovery position. Calling 911. If it's opioids, administering the naloxone."
Targeted training sessions are also being provided to professionals who would come into contact with opioid users, including team members in Addictions, Mental Health Services, healthcare workers at acute care centres, plus emergency department physicians.
The Take Home Naloxone program is in response to the rising number of overdose deaths occurring as a result of fentanyl, an opioid that is 50 to 100 times more potent than heroin, oxycodone or mophine. Fentanyl is a prescribed painkiller that is often added to illegal drugs without people knowing.
Maxner is ultimately hoping that people at risk of opioid overdoses will come forward to receive these kits as a safety precaution.
"My hope is that with the promotion of this kit, that people would be more willing to see me. The fact is that this kit is not stringent on them having to receive services from us. This is not us telling them you have to stop using. This is us saying this is an option to keep you safe."
Individuals interested in obtaining a kit or training should contact the Cypress Health Region's Mental Health and Addictions Centralized Intake Team at 1-877-329-0005.
The Saskatchewan Ministry of Health is providing $50,000 this year to fund the provincial Take-Home Naloxone program, and kits are currently available in the Saskatoon, Regina Qu'Appelle, Prairie North, Sunrise, Prince Albert Parkland, Five Hills, Sun Country, Heartland, Keewatin Yatthe and Cypress health regions.