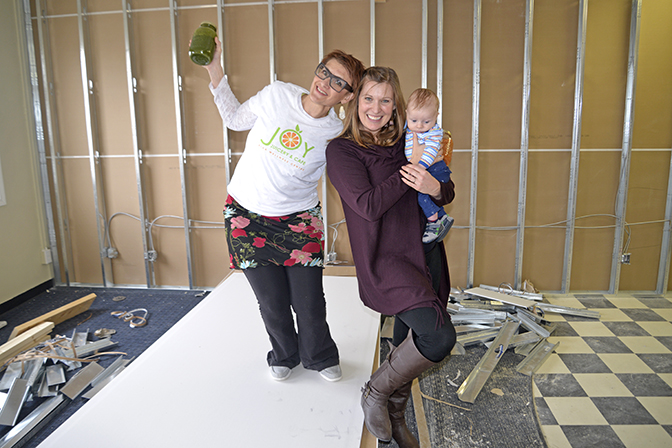 A wave of support continues to pour in for an Indiegogo campaign supporting the KIVA Studio and Joy Juicery Expansion.
Swift Current's Kiva Studio, operated by Christine Ciona and Erica Pasley, is currently expanding out of their 1,300 square foot basement location in the Carmel Mall. Their expanded second floor space is working towards their ultimate goal of a fully functioning wellness centre. This space will boast two fitness group and workout session rooms, a private session room, childcare space, plus a reception area and boutique. But the highlight of the space will be the Joy Juicery and Cafe which will serve cold pressed juice, smoothies, and healthy food options.
They had an initial campaign total of $15,000, but they surpassed that total earlier this week just 20 days after launching their Indiegogo campaign on November 1. They were sitting at 118 per cent of their target earlier this morning, but going above their target will only assist them in meeting a larger percentage of their overall renovation costs which are estimated at $90,000. Their campaign runs until December 10.
"I cry every day. It just blows my mind," Ciona said of the response to the Kiva Studio campaign.
"It is something quite miraculous I think to have a dream and a vision and an aspiration to create opportunities for people to be well and live dynamic and joy filled lives, and to have everyone say 'yeah, that's awesome.' This is going to make people feel better and be happier, and they're all saying yes."
The reached $4,000 in support in just three days, and earlier this month KIVA's initiative was the number one trending Canadian company on Indiegogo for a two week period.
"People are saying, finally," Pasley said. "Finally a smoothie bar. Finally somewhere I can buy my kids food that I don't feel guilty putting in their bodies. Finally I can have a meditation class and I don't have to worry if my husband is on call because we have childcare."
Ciona said they were attracted to the Indegogo platform because of they are very supportive of small business and creative minds.
"When you are doing start-ups, your expense is greater than what you can often receive. So we knew we needed a bit more cash flow to support us in the beginning of the renos."
The site features a series of bundles people can purchase in support of the expansion project.
"Basically, people buy products in advance," Ciona said. "We're making it really fabulous for them and contributing back for them contributing to us. And so it gives us some creative freedom."