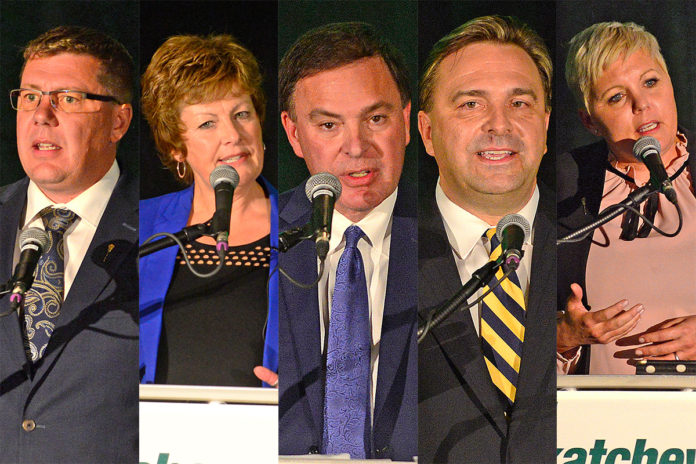 There were more similarities than differences during a cordial Saskatchewan Party Leadership candidate debate in Swift Current on October 19.
Swift Current hosted the first of six debates to be held across the province this fall between the five candidates seeking to replace Brad Wall as leader of the Saskatchewan Party and Premier of the province.
The debate format provided the candidates an opportunity to provide opening and closing statements, and answer 10 question which were submitted by Saskatchewan Party members.
The first question out of the gate for the leadership hopefuls was what each candidate was planning to do to address the concerns raised over the spring budget's initiative to add PST on insurance.
Scott Moe, MLA for Rosthern-Shellbrook MLA, admitted the province was facing a series of challenging decisions as part of their three-year plan to balance the provincial budget.
"I announced a couple of weeks ago that we would be able to reinstate the exemption of the PST on Crop Insurance, Hail Insurance, on Life Insurance, and Health Insurance. And we were able to replace those dollars in our budget to remain on our three-year plan to balance."
Alanna Koch, who recently served as the Deputy Minister to the Premier, said she has heard extensively about the issue during her travels across the province.
"What I have promised to do is upon election as Premier, if I'm so fortunate, I would do an immediate review of the PST on insurance. It's something that I think had unintended consequences. I'm not sure that there was enough analysis done before the decision was made to proceed with it."
MLA for Saskatoon Northwest Gord Wyant said he would be willing to consult with financial and insurance professionals to help final alternatives to this tax.
"I would be prepared to reinstate the exemption to reinstate the exemption for PST, and I would make that retroactive to the original date the decision was made," he said.
"What we need to do is sit down and continue to have that consultation with industry to make sure that we can come up with a solution that's acceptable to industry, but at the same time not adversely effecting our budget."
Ken Cheveldayoff, MLA for Saskatoon Willowgrove, also noted he has heard great concerns about PST on insurance while travelling across the province. He recently had an opportunity to meet with the professional associations that represents financial planners and life insurance agents, who presented alternative ideas to the tax.
"They've shown me that there's a better way to do it," Cheveldayoff said. "When putting a budget together you don't always have the opportunity to consult as wide as you would like to."
He also noted the provincial government needs to consult and commit to a new 10 year financial plan.
"If I become Premier, on day one, I'll put in place a commission. They will report within 60 days. They'll have a wide consultation. It'll be more than just PST. It'll be all of our taxes."
Tina Beaudry—Mellor, MLA for Regina University noted she was quickly opposed to the PST on insurance.
"I was the first candidate to announce that I would reinstate the exemption on PST for insurance products across the board."
She noted that when Saskatchewan's budget was passed in March, they did not know the extent of the federal government's tax changes and those impacts on small businesses and farms.
"As a result of that, and the threat of a Carbon Tax, and the changes we made to fuel exemption, coupled with the PST on insurance premiums there is a layered effect on our farms and small businesses across this province. We can not impose this on an agricultural sector, which is bolstering our provincial GDP while other sectors struggle at this time."
The leadership quintet was also asked to address what their plan is for returning the province to a balanced budget, and if they were planning on reducing the deficit through tax increases, program cuts, or a combination of both.
Cheveldayoff noted that Saskatchewan Party government operate in a fiscal conservative way in order to not transfer debt to future generations.
"I'm committed to the three-year plan that we put in place as a government. I think at the end of that three years we are going to be a better province because we will have our fiscal house in order. That will attract investment, and that will indeed be the basis for the next 10 years of growth in our province."
Beaudry-Mellor noted that she would like to help balance the budget with more performance managed government methods.
"First, I would like to see us look at a two year budget planning cycle instead of an annual one. This will help us reduce the current bureaucratic turnaround on an annual basis that contributes to a bloated government quite frankly."
She also said she would pursue targeted reductions, but not every ministry would have the same reduction target.
"We would examine a longer back-to-balance plan that would be no longer than five years."
Moe was also supportive of the existing deficit strategy.
"I also support the government's plan to return to balance in three years as Brad Wall's plan, as the Government of Saskatchewan's plan. Balanced budgets are the third guiding principle on the back of each of our membership cards, and I think it's important that we're able to get there as soon as possible."
"The reason that three year plan to balance is important for all of us here in this room is so that it can sustain the investments that we've come to enjoy and expect from the provincial government."
Koch noted she would extend the existing budget plan to return to balance.
"For me, balanced budgets are a priority. And I know that that means tough decisions. It also means we have to be careful not to shock the economy too much with the changes that we've made, still maintaining the services that we need for people."
"It's that fine balance of ensuring services are provided, but also having the ability to be responsible fiscally … That's why I've put forward the plan to take one more year to get to a balanced budget."
Wyant noted his platform includes ideas on how to move away from the cyclical commodity prices which have caused a challenge for the provincial government.
"That's one of the things that we talk about in my campaign about retreating from reliance on cyclical commodity prices as we move forward to balance the budget."
"I'm committed to the three-year plan. I'm also committed to having a review in terms of all our budget decisions and ask the question as what the core business of government is. Should we be in certain businesses? Should we be in certain businesses. Should we be spending money in certain areas that are better done by the private sector? That's another one of our core principles that the party was founded upon."
The leadership candidate group was also asked on how they would approach relations with the federal government, which on certain issues have been rather contentious.
Beaudry-Mellor noted that as the former Minister of Social Services, the province does have positive relationships in the areas of of housing, child welfare, social services, disability and access and accessibility legislation.
"It is very important for the Premier to stand up against those things that are harmful to our economy," she said.
Moe, who recently served as Environment Minister, said the province has had to have a strong voice in the debate around Carbon Tax.
"I think there's some times where we are just going to have to say no. But in saying that I often, and on many files, had a great relationship with my counterpart Minister McKenna (Minister of Environment and Climate Change MP Catherine McKenna). Although we agree to disagree on a few files, one being the Carbon Tax and not foisting that cost on our families, our industries, and our jobs here in the province of Saskatchewan."
He added that he was concerned with the federal government decisions and tinkering with the National Energy Board and the ultimate cancellation of Energy East.
"The rules that which we were able to apply for these projects have changed. And quite frankly, as we move forward, that effects how we can grow our economies, how we can grow our careers in our communities. And now what needs to change is our conversation about how we share our wealth here from Saskatchewan with the rest of Canada."
Koch commented that the Premier needs to be a strong voice for the province.
"We need to stand up for Saskatchewan's interests and make sure that the Trudeau Liberals understand us better because they seem to have difficulty understanding us."
She said she would stand in opposition to the Carbon Tax, but would propose alternative plans to address Canadian carbon emissions.
"I would talk about a Saskatchewan made solution on the Carbon Tax," she said. "I would ask for an immediate review of National Energy Board regulations."
She added the province also needs to stand up in the area of the proposed federal tax changes.
"What we need to do is manage our relationship – be tough, stand up for ourselves."
Wyant also agreed it is important the Premier of Saskatchewan stand up for the province.
"There've been a number of things that the federal government's done recently that don't help our relationship, whether it's the Carbon Tax, whether it's the unfair tax changes, and whether it's equalization. And I've made a comment about taking the federal government on, and our provincial partners, with respect to that equalization. But we need to stand up for this province, stand up for the people of Saskatchewan, and I think that means building a new relationship with the federal government."
Cheveldayoff explained that Saskatchewan can work together with other levels of government, but only if the federal government is willing to do so.
"But what I've seen from this government is they're not willing to do that on many files – certainly on Carbon Tax and Energy East and others. We just can't be against something, but we have to provide alternatives as well."
He feels there is clearly a made in Saskatchewan solution to the Carbon Tax, noting that through innovation and food science, agriculture is not the problem, it is the solution.