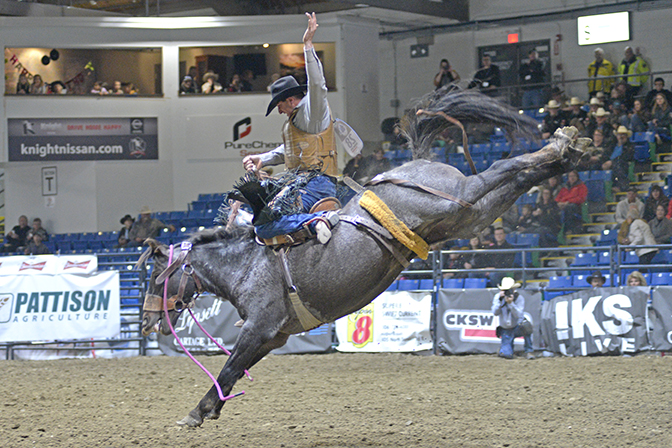 A quartet of Southwest entries enjoy the view from atop the standings following Day One of the the 2017 Canadian Cowboys' Association Finals Rodeo in Swift Current.
Wednesday night's rodeo performance featured the top 12 finishers in seven events competing for the finals championship.
In bareback action, Consul's Monty Koopman held on for a thrilling 78 point ride to win first place. Clayton Bunney from Byemoor, AB was second with 77.5 points. Brett Williams of Stavely, AB had a 76.5 point effort to place third. Maple Creek's Brady Bertram grabbed fourth place with a 74.5 point ride.
Leading after day one in the saddle bronc event is Adam Gilchrist from Maple Creek who had a 76.5 point ride aboard Western Expo. Wyatt Thurston from Big Valley, AB, was second with 74 points. Casey Bertram from Piapot was third with 69.5 points, and the only other qualified ride was by Chance Barrass from Yellowed County, AB who took fourth with 67.5 points.
The Waldeck roping tandem of Tuftin and Tyce McLeod turned in a quick 5.0 second run to win the opening night of team roping action. The McLeod's were the last team to run on Wednesday thanks to being the regular season top money winning team roping duo. Taking second place was the Waldeck combination of Tee and Scott McLeod who had turned in a 6.0 second effort as the second final team to compete. Third place went to Ty Paton (Carnduff) and Jim-Bob Gomersall (Moose Jaw) in 6.7 seconds, while fourth place was won by Taylor Wudrich (Bow Island, AB) and Tanner Jones (Maple Creek) in 6.9 seconds.
Shawn Williamson of Mankota had an 8.7 second winning run to take the early lead in the tie down roping event. Justin Bridgeman from Binscarth, MB had a 9.1 second finish to place second. Bruce Dunham of Indian Head was third in 10.3 seconds, while Shay Keller of Rockglen placed fourth in 10.4 seconds.
Just 0.2 of a second separated the top three finishers during day one of steer wrestling action. Trace Nicholson from Taber won in 4.3 seconds, Kal Klovansky from Qu'Appelle was second in 4.4 seconds, while High River's Riley Westhaver was third in 4.5 seconds. Ryan Shuckburgh from Innisfail, placed fourth in 5.4 seconds.
Laura Stokes from Austin, MB topped the women's barrel racing field with a 12.71 second run. Mankota's Karli Cowie earned second spot thanks to a 12.84 second run. Alex Hanson from Medicine Hat placed third in 13.00 seconds, while Valerie Gillespie from Duchess, AB, earned fourth place with a 13.07 second finish.
The evening finished with bull riding, where Nicholas Tetz from Calgary and Ron Hunt from Nanton tied for top spot with 83 point rides. The only other competitor with a qualified ride was Central Butte's TJ Loeppky who placed third with a 76.5 point performance.
Winners from Wednesday's performance carry over championship points and cumulative times into the next four performances.
Performance Two of the CCA Finals will be held starting at 7 p.m. on Thursday at the Innovation Credit Union iPlex.