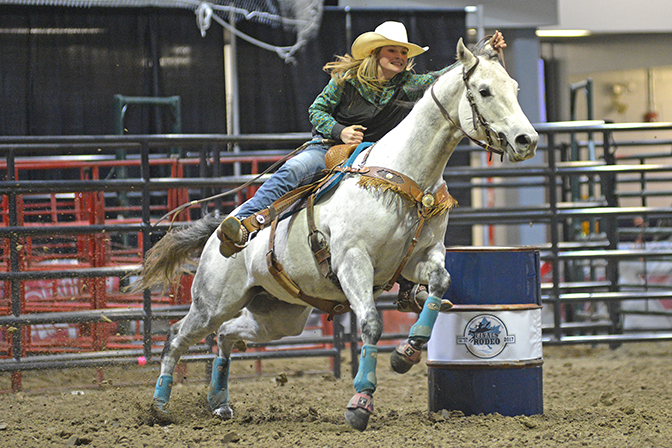 Maple Creek swept the top four placings during day one of the Junior Girls Barrel Racing during the Junior/Novice Rodeo at the 2017 Canadian Cowboys' Association Finals Rodeo in Swift Current.
Logan Resch set the pace with the opening run on Wednesday, completing the cloverleaf pattern in 12.72 seconds. Resch entered the CCA Finals as the top ranked junior barrel racer after winning $4,100 in the regular season. Janae Wilson posted a 12.76 second run to finish in second place by just .04 of a second. Sydney Windjack turned in a 12.87 second run to take third, and Cassidy Gordon took fourth place in a time of 13.50 seconds.
The afternoon performance of the Junior/Novice Rodeo featured competition in a total of five events.
Kobe Kmita of Weyburn had a 78.5 point ride to claim top spot during day one of the Junior Steer Riding event. Abbey's Blake Smith had 75 point showing to hold down second place. Colt Kornfeld of Val Marie, the top ranked junior steer rider during the regular season, had a third place ride of 73 points.
In Novice Bull Riding action, Kole Dolgopol from Irvine, AB had a 75 point ride to hold down the day one lead. Blake Smith from Abbey was close behind in second place with a 73 point ride.
In Novice Bareback action, Liam Marshall from Coronach, held on for a 64 point ride to lead after the opening performance on Wednesday afternoon. Casey Bear of Whitewood posted a 59 point ride to place second.
Brodie Dinwoodie from Brandon had the best Novice Saddle Bronc ride on Wednesday, posting a 65 point ride. Jacob Hutteroth from Australia placed second with a 61 point performance.
Day Two of Junior/Novice Finals Rodeo is set for 1 p.m. on Thursday at the Innovation Credit Union iPlex. Admission is free for the afternoon event.