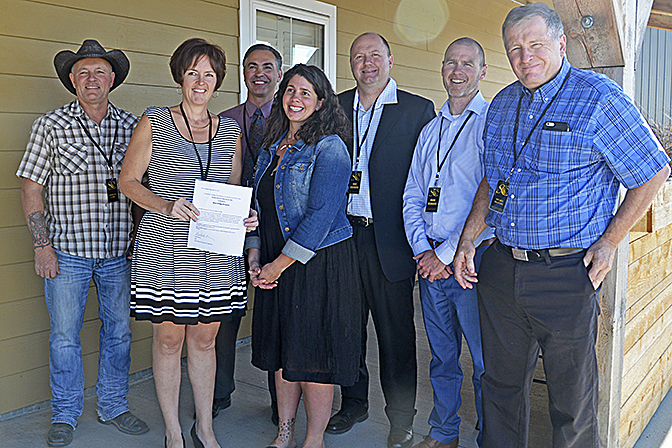 Black Bridge Brewery added to their impressive collection of business accolades by being selected as the SCBEX Spirit of Swift Current 2016 Member Business of the Year.
An announcement was made earlier this afternoon by the Swift Current and District Chamber of Commerce that the business started by co-founders Clayton and Kari Stenson in October 2014, had earned the prestigious honour.
"I didn't really expect it. It's a really exciting honour for us to be recognized for this," a surprised Kari Stenson said moments after receiving the news of the award.
Earning recognition for their business is nothing new for Black Bridge Brewery, who have captured awards at the local, provincial and national level, but it still comes as a pleasant surprise.
Last year, Black Bridge earned the SCBEX Award in the Start-Up/New Business category. Provincially, they collected a Saskatchewan Chamber of Commerce 2016 ABEX Award in the New Venture category.
Stenson admitted these achievements have happened quickly for a business that opened only three years ago.
"We're still not used to being business owners, it's such a part of our life that we don't really think of it as being anything special," she said.
"We're really proud to be here. And I've said that a lot. And it's true. We are, we love Swift Current and we love our town and we're proud."
Black Bridge Brewery boasts a trio of national awards for their beers, having now won gold, silver and bronze medals at the Canadian Brewing Awards over three consecutive years. Earlier this year Black Bridge captured gold in the Imperial Stout category for their Folklore Imperial Stout. They won a silver medal for their Milk Stout in the Sweet Stout or Cream Stout category at the 2016 Canadian Brewing Awards, a step up from the bronze medal they claimed in the Stout category at the 2015 Canadian Brewing Awards.
"We pride ourselves on trying really hard to make the best quality product, and winning awards for our beers shows us that we're doing the best that we can."
Stenson is pleased that they have developed such a loyal fan following in such a short time.
"Because it's made locally, I think that people are excited to try it if maybe they're not used to a small craft brewed beer. But once they do I guess they're excited by the uniqueness of it, so that's usually what keeps people coming back and sharing it with their friends that are coming into town or travelling through."
Black Bridge Brewery also helped play a part in a unique celebration of Canada's 150th, as their Wide Open Spaces Kellerbier was selected as the Saskatchewan designed beer in the Red Racer Across the Nation Collaboration 12-pack which was distributed nation wide.
"It was a huge brand awareness for our small brewery here in Saskatchewan. We've had recognition from all across Canada. We've had people from the (North West) Territories sending us emails. That's exciting. It was really great exposure for our business."
And, as one more additional nod to their efforts, earlier this month Expedia named Swift Current as one of two Saskatchewan destinations on their Best Beer Towns in Canada. The list featured only 19 Canadaian craft brewers.
In making today's announcement, Karla Wiens, Chief Executive Officer of the Swift Current and District Chamber of Commerce, said Black Bridge was a fitting winner.
"Black Bridge Brewery really is a small town Saskatchewan success story. Keri and Clayton have worked very hard to expand their brand awareness, their product. I think they have a good product," Wiens said.
She said the award is open to all businesses which have been open for a full year, and includes a lengthy list of criteria.
"It's really about a Chamber member who exemplifies leadership, innovation, corporate stewardship, community involvement, and exemplary customer services. And Black Bridge Brewery most definitely embodies all of those criteria."
The SCBEX Spirit of Swift Current 2016 Member Business of the Year is sponsored by the Swift Current and District Chamber of Commerce, and this recognition is nominated and voted on by the Board of Directors.
"This choice was a hard one to make, but on the same extent not that hard because Black Bridge does such an amazing job in and for our community."
The 19th annual SCBEX Spirit of Swift Current Awards will be held on October 27 at the Living Sky Casino's Event Centre.