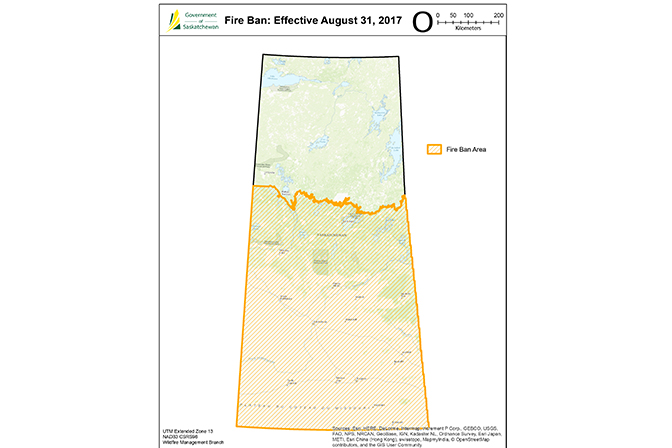 Open fires are now prohibited at all Saskatchewan Provincial Parks and Crown Land and recreation sites south of the Churchill River.
The expanded fire ban was issued on Thursday by the Ministry of Environment, in consultation with the Ministry of Parks, Culture and Sport.
The fire ban does not affect the day-to-day operations of the parks. The parks will be open, accepting visitors and are looking forward to a great long weekend.
An open fire ban had originally been put in place on August 1 in response to the extreme wildfire hazardous conditions which existed in Southern Saskatchewan. The expanded coverage area was placed under a fire ban on August 31.
For the duration of the ban, no open fires are permitted. Fireworks are also prohibited. Self-contained heating devices, pressurized stoves, gas barbecues, propane firepits, or charcoal briquettes used in an approved firebox will be permitted for cooking and heating purposes during the ban.
Due to extreme wildfire hazards, some roads and camping spots may be closed. If you plan to visit a provincial park or recreation site, call the park in advance to confirm conditions.
Municipalities, as well as regional and national parks, may also ban open burning in their areas of responsibility. Check with your local authority to find out if there are burning restrictions in place for your area.