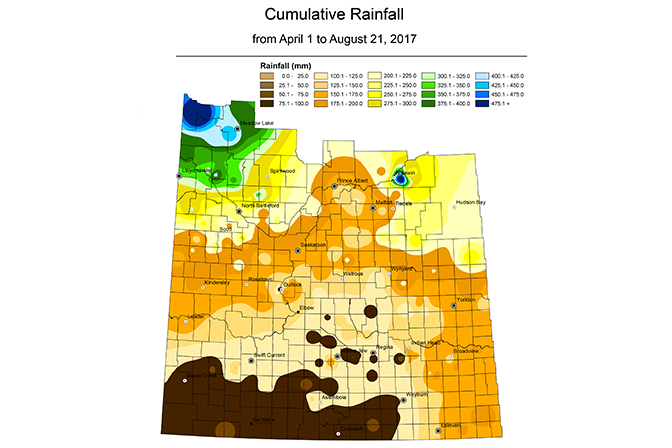 Warm and dry weather is allowing Southwest producers to make steady progress during the early weeks of harvest.
The Saskatchewan Agriculture Crop Report for the period of August 15 to 21 notes that 30 per cent of the crop is in the bin across the Southwest, up from 17 per cent just a week ago. An additional 17 per cent of the crop is swathed or ready to straight-cut. These totals are well ahead of the Southwest's five-year average of 16 per cent of harvest being completed.
Province wide, 14 per cent of the crop is now in the bin. This places producers ahead of Saskatchewan's five-year average of eight per cent harvest completion.
Some Southwest producers have indicated that, while some yields are much higher than expected, other crops are yielding well-below average. Many of the winter cereal crops have been taken for greenfeed.
It has been challenging swathing canola and timing the desiccation of other crops due to different stages of crop maturity. Secondary weed growth has also been causing some combining issues.
The majority of crop damage this past week is attributed to strong winds, lack of moisture and wildlife such as geese and cranes.
With no rainfall across the majority of the region this past week, topsoil moisture conditions have severely deteriorated since the previous week. Topsoil moisture on cropland is rated as five per cent adequate, 33 per cent short and 62 per cent very short. Hay land and pasture topsoil moisture is rated as five per cent adequate, 22 per cent short and 73 per cent very short. All crop districts in the region continue to report that at least 85 per cent of cropland, hay land and pasture are short to very short topsoil moisture at this time.
There continue to be reports of grass and pasture fires, and producers remain concerned about combine fires due to extremely dry field conditions.
SaskPower has received 12 reports of farm machinery coming in contact with power lines in August, with four reports being received last week.
Saskatchewan Harvest
(% combined, as of August 21)
Fall rye – 92%
Winter wheat – 83%
Lentils – 57%
Peas – 54%
Durum – 14%
Barley – 9%
Mustard – 9%
Soybeans – 6%
Spring wheat – 4%
Oats – 2%
Canola – 2%
Chickpeas – 2%
Saskatchewan Harvest Progress
(as of August 21)
Winter Wheat
Standing – 3%
In Swath – 0%
Ready to straight combine – 18%
Combined – 79%
Fall Rye
Standing – 0%
In Swath – 2%
Ready to straight combine – 0%
Combined – 94%
Greenfeed/silage – 4%
Spring Wheat
Standing – 68%
In Swath – 2%
Ready to straight combine – 16%
Combined – 14%
Durum
Standing – 68%
In Swath – 0%
Ready to straight combine – 16%
Combined – 16%
Barley
Standing – 59%
In Swath – 1%
Ready to straight combine – 22%
Combined – 18%
Greenfeed/silage – 0%
Oats
Standing – 82%
In Swath – 9%
Ready to straight combine – 4%
Combined – 5%
Canaryseed
Standing – 100%
Flax
Standing – 99%
Ready to straight combine – 1%
Canola
Standing – 73%
In Swath – 19%
Ready to straight combine – 4%
Combined – 4%
Mustard
Standing – 62%
In Swath – 18%
Ready to straight combine – 7%
Combined – 13%
Soybeans
Standing – 100%
Field Peas
Standing – 21%
In Swath – 0%
Ready to straight combine – 4%
Combined – 75%
Lentils
Standing – 16%
In Swath – 1%
Ready to straight combine – 24%
Combined – 59%
Chick Peas
Standing – 98%
In Swath – 0%
Ready to straight combine – 0%
Combined – 2%