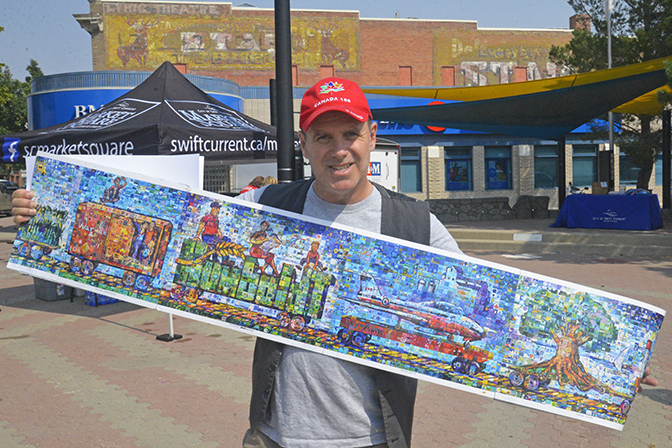 Swift Current residents had the opportunity to contribute to a piece of artwork that will celebrate their community and the 150th anniversary of Canada.
Lewis Lavoie, Canada 150 Mural Mosaic Project Designer, was at Market Square on August 18 and 19 to help people of all ages contribute to the project.
"We are painting tiles and it is going to be part of a mural project. The mural project is part of a bigger project that connects other murals with other communities to make one large mural for all of Canada," explained Lavoie.
The project began in Vegreville, AB in 2015, and in the first year and half over 20,000 Canadians have contributed to the project.
"We've reached 70 communities so far in the last two years. Our goal is to try and hit 150 communities across Canada. We want each town and each city to design their own mural that is going to go in there and have their communities come out and paint it. I basically take their ideas and I design it and I try and fit it so that it best says something about the town and the communities," he explained.
Lavoie said that he first formulated the idea over a decade ago.
"When I came up with it it was instantly shown to Queen Elizabeth on her royal visit in Canada in 2005. So I figured we are on to something really neat with this project. We had Saskatchewan and Alberta both paint and it was revealed to the Queen. Right away the project was aired on BBC News and became a national kind of thing. I went around pretty well North America doing this. Then at the 2010 Olympics they had me do a big project for Vancouver where we had all the West Coast artists create this big mural there. The mural was called Kunamokst. Then after that we did a project for the United States, they wanted a big large flag of their country during the 2012 election I believe, around that election time. We did this thing and that was implemented into their schools and they started using it as an educational tool."
From there he shifted his focus back to Canada and the celebration of the 150th anniversary of Confederation.
"Then all I heard from that point was 'What are you going to do for Canada? What are you going to do for Canada?' So we started thinking okay our anniversary is coming up. Artists never plan any further than one year, but we started just dreaming if we could do a big project what would that look like? We wanted to do something like this that could tie everybody together. So we have been working on it trying to find our financing, trying to find ways of doing this thing. Last year we figured we should get started on this and go right into 2017. That's kind of how this whole project came about."
Lavoie said the response to the Canada 150 Mural Mosaic has been tremendous.
"Communities from all over Canada have been contacting us and saying how can we get one. It's been fantastic."
The finished product will eventually be displayed in Swift Current.
"So Swift Current's mural will hang probably somewhere on one of the city buildings here because the city is sponsoring the whole project. The mural will be here and everybody that participates will be able to view it when it is hanging," said Lavoie.
The entire mural will also be visible online at canada150mosaic.com.
"That way you can explore other murals that the other communities have done. It is going to be a very interactive website that we are going to have where by stroking your finger over the phone, or your iPad, or whatever, you can move the train, it's train that the final picture is. You can stop at the train car of your community and zoom in and look at the different murals and pictures," said Lavoie.
Celebrities such as Sarah McLachlan, Rick Mercer, Sam Roberts, Ryan Smyth, Clara Hughes, Jann Arden, and Lanny McDonald have all participated in the project.
"We have NHL players, we have actors, musicians, we have tons of guest artists and it is kind of neat to see what their painting and contributing to this project," he added.