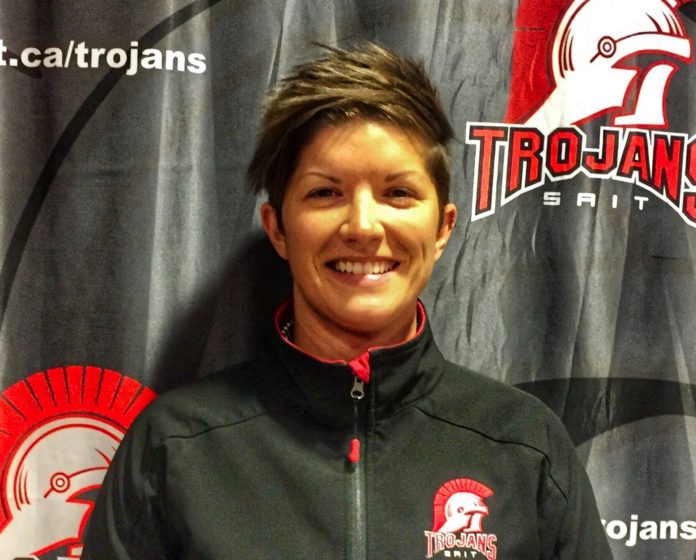 Swift Current's Kelsey Leifson is set to take a huge step forward in her coaching career after being named the sixth head coach of the SAIT Trojans women's hockey team.
Leifson, 31, will replace Terry Larson, who guided the Calgary based team for the past nine seasons.
"Yeah it is kind of exciting," said Leifson from Calgary. "Also quite overwhelming, but it will be a good challenge. I am excited to get going and get the first couple of days out of the way and meet the girls and see what we've got in front of us."
Leifson's playing career included four seasons with the University of Regina Cougars. Since graduating in 2008, she has coached plenty of hockey, most recently as an assistant coach with the Mount Royal University Cougars, working a lot behind the scenes with the video aspect as well as on the ice at practice. She also began last season as an assistant coach with the Calgary Fire Bantam AA Elite team, eventually moving up to the head coach position where she led the team to a bronze medal at provincials.
The SAIT Trojans had an eventful season in 2016-17 after winning only one game in the first semester. They hit their stride after the holidays and advanced all the way to the Alberta Colleges Athletic Conference championship series before losing to the Grant MacEwan University Griffins.
"They had a pretty solid second half of the year, so expectations are high I guess going into this year hoping to either repeat that or better that," said Leifson, who noted that the team is made up more so of players from British Columbia, Manitoba, and Saskatchewan than Alberta girls. Leifson said the team only has eight returning players because many of the programs at SAIT are one or two-year programs. One of the netminders eligible to return to the Trojans this season is Swift Current's Sam Lemay.
Leifson laughed that she has been coaching since she was old enough to teach somebody something. She started off coaching in Swift Current before she worked up to stints with the Saskatchewan Hockey Association.
"I guess I would say I focus a lot on the intangibles and getting accountability out of the players," said Leifson when asked to describe her coaching style. "That's kind of my biggest preaching word is being accountable to teammates, coaches, staff, school, and being respectful to other teams."
"As far as the actual style of play goes, I like a lot of hard-nosed, hard-work, gritty type play in order to cause turnovers with high pressure and attack the net quickly. Ultimately, I want to do everything defensively to turn it into offense quite quickly. I am huge on the transition game and that is kind of where I base things off of," she added.
Leifson also spent one season behind the bench of the Swift Current Diamond Energy Female Midget AAA Wildcats as an assistant to current coach Terry Pavely and hopes to use her contacts in the province to aid the recruiting process in the near future.
"Yeah it is kind of nice being from Swift Current and then playing in Regina, I have a lot of connections," said Leifson. "There are a lot of players who play Midget AAA that don't necessarily get recruited right away by the U Sport or NCAA programs. SAIT has a lot to offer as far as the schooling goes. It can be a good stepping-stone into a university program if that's what needs to take place or it can be just an extension of someone's hockey career who isn't quite at a NCAA or U Sport level. But definitely having the connections in Swift, the rural areas, in Regina, and here in Calgary now too is going to be really beneficial to the recruiting process."