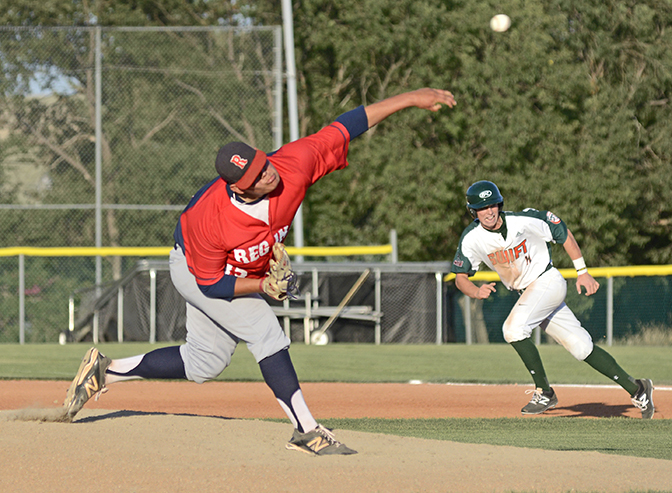 Junior Fermin drew a bases loaded walk in the top of the 12th inning to spark a four running as the visiting Regina Red Sox earned a scrappy 12-8 come from behind win over the host Swift Current 57s.
Ferman drew the bases loaded walk on a full count with two out in the decisive inning, and then Jordan Schultz and Aden Campbell scored on an infield error to extend their lead to three runs and take their first lead of the game. Antonia Torres singled home Fermin to give them a 12-8 advantage.
Regina had trailed by a 6-0 count after four innings and they were behind 7-2 after five innings before staging the comeback in the fifth to eighth innings.
Momentum swings were certainly the focus of the marathon four hour plus game, as Swift Current scored in four consecutive innings to build their early 7-2 lead, while Regina replied with eight runs in the fifth to eight innings.
The teams combined for 31 hits and Regina sent six different pitcher to the mound, while Swift Current used seven pitchers.
Swift Current had showed lots of pop at the plate while jumping into their early lead, as Blake Adams launched a solo home run in the third, Brett Esau notched a two run home run in the fourth, and Bodie Cooper blasted a solo home run in the fifth.
Regina now takes sole possession of top spot in the Western Major Baseball League's East Division with a 27-12 record after winning their sixth consecutive game.
The teams entered the game tied with identical 26-12 records, as Swift Current had won their previous three games to pull even with Regina.
Swift Current and Regina lock up three more times during the home stretch of the regular season, playing at Mitchell Field on Monday, July 24 and Saturday, July 29, while the 57s travel to Regina on Friday, July 28.
The 57s are on the road to face Moose Jaw on Saturday, but return to Mitchell Field to start four game home stand starting against Weyburn on Sunday.