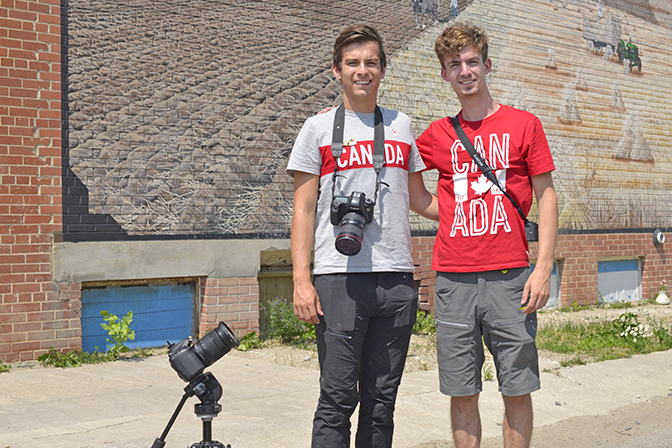 Armed with just $150 between them, two University of British Columbia student are hitchhiking across Canada as a special recognition of Canada's 150th.
Ori Nevares and Philippe Robarge arrived in Swift Current on July 19 and spent 24 hours enjoying some Southwest Saskatchewan hospitality.
The duo started on July 8 in Whitehorse in order to capture a northern prospective of the country. They then made their way to Dawson Creek, next to a sheep farm outside of New Norway, Alberta (just southwest of Camrose), and after a day in Calgary they made their way to Swift Current on Wednesday.
Nevares and Robarge both admit that the first days of their trip has wildly exceeded their expectations, as their trip is largely dependant on the kindness of strangers.
"It has gone far and beyond anything we could have imagined really. The generosity, the kindness, the openness we've seen has been incredible," Nevares said during an interview at The Booster office.
They are producing video blogs of their encounters with kind strangers, and they ultimately intend to create a documentary which will cover their coast-to-coast adventures.
Except for waits of varying timeframes, their hitchhiking experiences have been positive ones. When venturing out to search for their first ride north towards Whitehorse, a kind motorist stopped before they even put their bags on the ground.
"The people that are driving in Northern Canada are covering crazy distances. If we wanted to we could have been in Regina four days ago. We got a ride from someone that was doing Dawson Creek to Regina in one go, for work," Roberge said.
"That's the beauty of hitch hiking. At least for the first leg when we didn't have as many contacts or people reaching out to us, you would just stand at the side of the road and you have no idea what's going to happen," Nevares said.
The trip is also turning out to be an amazing way to see the country, while allowing them to meet a diverse group of people along the way.
"The reason why we're doing this project is because we haven't explored our own country and we're Canadians. And that's a common thing that we found across Canada – it's so spread out, it's so isolated and diverse that people don't travel Canada," Nevares said.
"So we wanted to showcase it as best as possible as we go across so that our followers can get the sense that they're joining us, and also discover what we discover along the way."
They are also hoping to capture a sense of Canadian pride by interviewing people they encounter. The interview each motorist they get a ride with and they ask a series of four questions, including: how their family got to Canada, what is their favourite part of Canada and what would they miss most if they were to leave, what is the greatest piece of advice they have ever received, plus why they chose to give them a ride.
While the first part of their trip had them zig zag across British Columbia and Alberta, they plan to primarily stick to the TransCanada Highway for the remainder of the trip which is scheduled to wrap up on August 8.
"We calculated that we need to do an average of 266 kilometres a day if we want to get to St John's in 30 days from Whitehorse. And its been 10 days and we've done 2,657 kilometres from Whitehorse. So that's as close to one-third of the distance as we can get."
You can follow their progress online at www.expeditioncanada150.com.