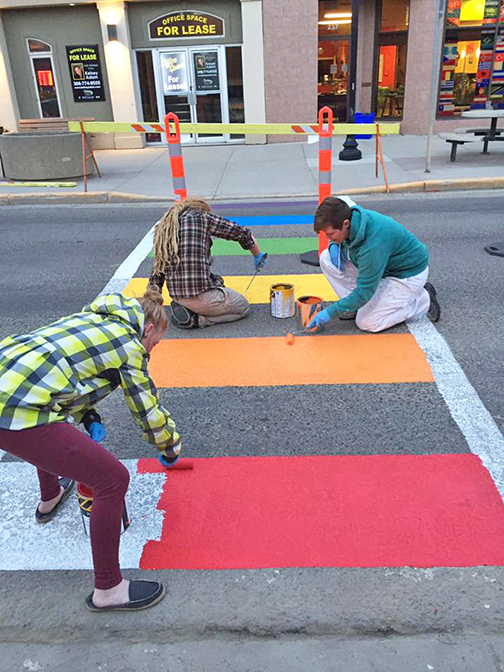 Volunteers from Southwest Saskatchewan Pride were busy on Wednesday installing the first permanent Rainbow Crosswalk in Saskatchewan.
The multi-coloured crosswalk was painted in the 200 block of Central Ave. with the support of the City of Swift Current and Paula McGuigan Professional Painting. The Rainbow Crosswalk is a representation of the support for Lesbian, Gay, Bisexual, Transgender, and Queer (LGBTQ+) individuals and comes in the days leading up to Swift Current's first Pride Week on May 28 to June 3.
"I am so very proud of Swift Current. I think our community has really come together to support LGBT people." stated Andrea McCrimmon, President of Southwest Saskatchewan Pride. "It's an important moment in history, that a small city in Saskatchewan was the first to install a Rainbow Crosswalk. It very much speaks to the inclusive attitudes of our city, and it makes our community stronger. Swift Current has a strong LGBT community. This is important for us, and it's good."
"Others may look to cities like Saskatoon or Regina to be included or accepted." says Stephen Feltmate, Southwest Saskatchewan Pride Member "But this shows that Swift Current can be a place that gay or lesbian professionals can establish themselves."
"This affects the younger generation too, and it supports our inclusion in the Swift Current Community," added Kourtney McIntyre, a member of the Maverick School's Sexuality and Orientation Support (SOS) group.
Rainbow Crosswalks first appeared in 2012 as temporary additions during Gay Pride Month in Los Angeles. Permanent installations of Rainbow Crosswalks in major cities began as a symbol that communities had inclusive attitudes towards LGBTQ+ individuals. Vancouver was the location of Canada's first permanent Rainbow Crosswalk in Canada back in 2013, and communities across BC, Alberta, and Ontario have also adopted these colourful crosswalks.
Southwest Saskatchewan Pride envisions a community free from discrimination against gender identity and sexual orientation.