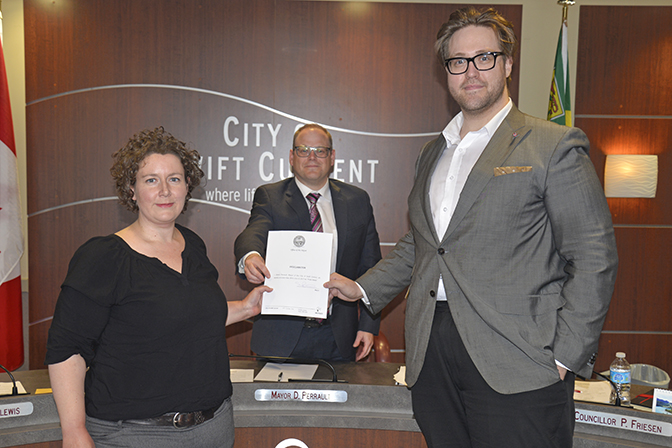 In what was a near inconceivable idea at the start of the decade, the City of Swift Current has proclaimed May 28 to June 3 as Pride Week.
Six days of activities are planned for Swift Current Pride Week 2017, a quantum leap from their first Pride Day event six years ago. That initial event was not advertised publicly, as organizers at that time felt they could not ensure the safety of their guests, and they did not feel it was appropriate to hire security for that initial event.
"In not hiring security, we made a choice that night to hold our community, and that's our entire community, to a higher standard. We chose to trust that our friends and our neighbours and our co-workers could rise to the occasion and prove that our hometown can indeed hold currency," explained Shawn Hanna, Vice President of Southwest Saskatchewan Pride.
From that inaugural event, annual observations have grown in stature, and six years later the community finally prepared to proclaim its first LGBTQ Pride Week.
"We know that the shift towards acceptance and openness is perhaps too fast for some, and perhaps maybe even some in this room here tonight. But I promise you it'll be OK."
"This is a very proud moment for the City," Hanna added. "But make no mistake, this is also a stamp of approval that recognizes that diversity of a community is the hallmark of a healthy community."
A delegation supporting the Southwest Saskatchewan Pride initiative was in attendance at the Tuesday, May 23 council meeting where Pride Week was proclaimed.
Southwest Saskatchewan Pride President Andrea McCrimmon extended her appreciation for the support given by the City of Swift Current to make this year's events possible. She reported it was an overwhelmingly positive experience and she was grateful for the help they received in highlighting their events which celebrate the diversity of Swift Current, and promotes the inclusion of gay, lesbian, bisexual, transgender and queer residents across the Southwest.
"Supporting diversity within our community has many benefits for the well being of the citizens of Swift Current. There's a persistent idea that LGBTQ people will not find happiness or fulfillment in small cities like Swift Current. Our group, and the events during our Pride Week, demonstrate that this is not the case."
Admittedly, one of the goals of Swift Current Pride Week is to bring visibility to the LGBTQ community within Swift Current and the Southwest.
"We are your friends. We are your neighbours. We are your business and community leaders. We are service providers. We are care givers. And we play a significant role in supporting our local economy. We are part of the diversity and unique culture of the citizenry of Swift Current."
Pride Week will afford residents an opportunity to acknowledge and support the diversity which exists in Swift Current, while creating safe spaces for people to be themselves and connect with others.
"We are really thrilled and excited that we received such overwhelming community support in planning Swift Current's first Pride Week, and that includes from the City of Swift Current."
Swift Current Deputy Mayor Ryan Plewis noted at Tuesday's council meeting that the city feels it is important week for the community despite any opposition to the proclamation.
"Maybe that's not always comfortable for everybody. Maybe it's not always something that everybody would support," he said.
"But as the Mayor mentioned that we want to be a safe and caring community, and that includes welcoming people of whatever stripe as friends, neighbours, business partners, customers, professionals."
International visitors groups embraced and welcomed into community.
"It is important that we recognize that this (the LGBTQ) community is part of our overall community and it makes us a stronger and better place."
Swift Current Pride Week events include:
Monday, May 29 – A flag raising ceremony at 12:15 p.m. at Market Square with Lieutenant Governor of Saskatchewan Vaughn Solomon Schofield.
Tuesday, May 30 – Pride Coffeehouse. The Southwest Newcomer Welcome Centre is hosting a coffee house to celebrate gender diversity from around the world.
Wednesday, May 31 – Documentary Film Night. Featuring Director Marjorie Beaucage on the topic of being Two Spirit in Saskatchewan. Hosted at 7 p.m. at the Swift Current Library.
Thursday, June 1 – Sexual Health Talks. Dr. Michelle Jagga discusses sexual health for those in the LGBTQ community. Youth presentation at 4 p.m., adult and parent session at 7 p.m., Fresh Start.
Friday, June 2 – Rainbow Mini Golf at Dairy King at 7 p.m. hosted by the Chinook School Division's Gay Straight Alliance.
Saturday, June 3 – The grand finale day of Pride Week starts with a Family BBQ at Market Square from 11 a.m. to 2 p.m. There will be live music, vendors, and free kids activities. A Pride March will be held at noon. There is a Drag Make-up Workshop in the afternoon organized in partnership with the Lyric Theatre and Chinook School Division's GSA students. The week wraps up at 8 p.m. at the Lyric Theatre where a gala Pride Dance will be hosted.
For more information visit www.southwestsaskpride.com or on their Southwest Saskatchewan Pride facebook page.