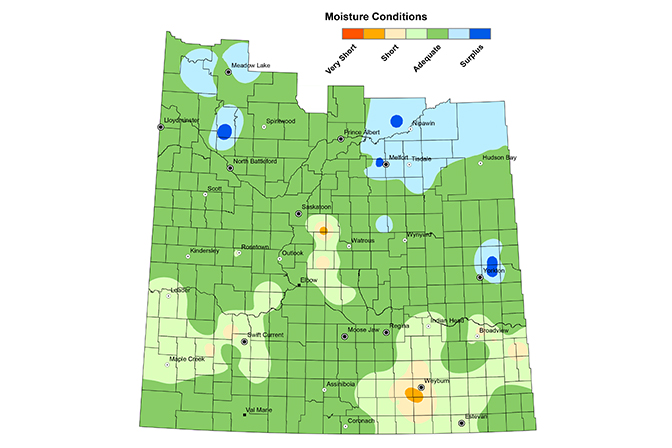 A rush of seeding occurred across the Southwest this past week, with producers getting another 30 per cent of the 2017 crop into the ground.
Saskatchewan Agriculture's Crop Report for the period of May 16 to 22 calculated that Southwest producers now have 76 per cent of the crop seeded, up from 46 per cent in the previous crop report. That total places the region close to the five-year average of 78 per cent.
As the percentage of field work varies across the region, some producers have wrapped up seeding while others need another week or two to complete their field work. In addition, some fields will likely be re-seeded in the coming weeks.
Saskatchewan Agriculture now estimates that one per cent of acres will not be seeded in the Southwest because of moisture concerns.
"Crops are emerging and are in good condition; however, the majority of crops are either at or behind normal developmental stages for this time of year," the Southwest portion of the crop report reads. "Strong winds and lack of moisture have caused some crop damage this week while frost has damaged alfalfa, winter cereal and oilseed crops."
The strong winds are causing a deterioration of topsoil moisture conditions across the Southwest. Cropland topsoil moisture conditions are now rated as one per cent surplus, 89 per cent adequate and 10 per cent short. Hay land and pasture topsoil moisture is rated as one per cent surplus, 82 per cent adequate and 17 per cent short. Pasture conditions in the region are rated as 11 per cent excellent, 74 per cent good, 14 per cent fair and one per cent poor.
Province wide, a full 60 per cent of the crop is in the ground, slightly trailing the five-year average of 65 per cent. The Southeast leads the province with 80 per cent of the crop in the ground, while the Northeast is least advanced at 25 per cent.
Producers are also reminded to be careful around power lines during this busy seeding period. SaskPower has reported that there were 23 power line contacts involving farm equipment between May 15 and 21, and during the first three weeks of May there were 67 total power line contacts.
Southwest Crop Progress
(as of May 22)
Fall Cereals
2% ahead
89% normal
9% behind
Spring Cereals
2% ahead
76% normal
22% behind
Oilseeds
1% ahead
73% normal
26% behind
Pulse Crops
6% ahead
73% normal
21% behind